Christian Dior has produced some of the most unique and fashionable men's and women's fragrances. In particular, one of their most popular products, Fahrenheit, is a cologne for men that has become stable on the market for the better part of the past four decades.
Christian Dior first released Fahrenheit back in 1988. However, unlike its contemporaries that have come and gone, Fahrenheit has remained a popular scent. Many consider it as one of the best smelling fragrances today. The market agrees as the scent continues to sell well. But, just like other popular scents, there are people who have not taken a good liking to it.
The most common criticism of the Fahrenheit is its price. It's definitely not cheap. There are also those who describe the scent as too strong and overpowering.
Either way, one thing everyone knows about Fahrenheit is that it's a great way for men to stand out.
Whether or not you'll stand out for a good or a bad reason using the Fahrenheit all depends on how and when you use it.
Fahrenheit cologne review
Christian Dior's Fahrenheit Cologne for Men is a legend among fragrances. Why? Because it was one of the first to successfully use hints of leather as a top note.
Jean-Louis Sieuzac and Maurice Roger took the risk with the Fahrenheit. Many years later, it's safe to say that their bold move paid off. Even if not everyone likes it, the wood and floral musk fragrance of the Fahrenheit has remained relevant since its release way back in 1988.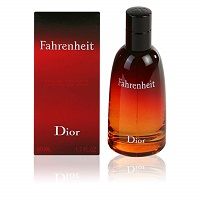 Aesthetically, the Fahrenheit Cologne for Men is hard to miss. The bottle has a fading black and red color scheme that has not changed much since its first release. As for the packaging, Christian Dior went with the same color scheme in the cardboard box. The only difference is that they used a different font for the name of the company and product.
At first glance, even those who don't know the history behind the scent can tell that this is not your ordinary Eau De Toilette.
There's a good reason why many perfumers have tried to imitate the scent over the years. However, none have managed to successfully reciprocate it. The fresh and fruity citrusy smell that welcomes you the very moment you spray it is unique.  It's hard to miss the citrusy top note and woody undertones.
Later on, you'll start to notice the other top notes used. This includes Bergamot, Chamomile, Lemon, Hawthorn, Honeysuckle, Mace, Lavender, and Violet.
Rounding out the fragrance are its heart notes, Jasmine, Cedarwood, Lily of the Valley, and Sandalwood. Meanwhile, the base notes are Leather, Musk, Tonka, Styrax, Amber, Patchouli and Lentiscus.
Combined together, these mixtures of notes gives the cologne a rather leathery scent.
While Fahrenheit does smell good, it's also divisive. There are some that love the leather scent. There are also others that don't. Some go as far as to describe the scent as similar to gas or petrol. That is not a flattering way to describe how something smells.
Regardless of whether you love it or not, don't mistake the cologne as a feminine scent just because it prominently features Violet.
The Fahrenheit Cologne for Men is anything but masculine.
Consider reading as you need from the following Review articles, all produced by Dior Christian:
• Maison Christian Dior Perfume
• Christian Dior Oud Ispahan
• Ambre Nuit Christian Dior
• Gris Montaigne Parfum
[wptb id=5101]
When Should You Use the Fahrenheit Cologne?
Here in our Fahrenheit Cologne review, we'll try to discuss everything there is to know about the fragrance. This includes when you should use it.
"Confidence" is the word we would use to describe Fahrenheit.
When you spray Fahrenheit on you, people will look at you. Or, at the very least, you'll have this effect where you'll have everyone looking for where the scent is coming from. But because of the cologne's intense fragrance, we don't recommend that you use it every day.
It's also not as great during the summer months, or if you're out in the sun all the time. Instead, we recommend that you use Fahrenheit during the winter seasons, and at night. The cologne should also do well in the colder months of spring and fall.
For the budding professional male, aged around 25 or so, the Fahrenheit is the perfect cologne because of its masculine smell.
As already mentioned, however, the powerful smell means that the Fahrenheit Cologne for Men isn't for everybody. If you're not keen on overbearing or overpowering scents, we recommend that you look elsewhere.
How Long Will Fahrenheit Last?
The strong leathery scent of the Fahrenheit Cologne for Men means that you won't have any trouble telling if it's actually working. You won't need to ask anyone if you smell. You'll know if you do. Either because you can smell yourself, or other people will tell you that you smell good.
A couple of sprays of Fahrenheit Cologne for Men should last you an entire day of the office. This is especially true if you are indoors all of the time. Even if you frequently expose yourself to warmer environments, the scent should still last you for a good six hours or so. Small traces will still linger for the rest of the day.
It's important to consider that the longevity of the cologne differs from one person to another. It may not last as long on you, or it may last longer. It all depends on how active you are throughout the day, and how much the fragrance fits with your body's natural smell.
Is Fahrenheit Good?
If you are looking to build a collection of scents to choose from, it's hard to go wrong with the Fahrenheit Cologne for Men.
Even if you're not one for strong and bold smells, the timeless nature of the cologne should come in handy. The aggressive scent makes it perfect for the young male professional looking to make a good impression. The scent is perfect for job interviews and dates. Just a couple of sprays of this cologne and you'll project confidence and masculinity.
Just remember that, when using this cologne, there's always the risk of some people finding the scent offensive.
The only reason why we'd recommend against Fahrenheit is if you're looking for a lighter, more casual scent. If that's the case, this cologne is not for you.
The Different Types of Fahrenheit Cologne Gift Set
Because of how popular the Fahrenheit cologne is, Christian Dior has capitalized on it. They have released the fragrance as part of a gift set.
Here are examples of Fahrenheit gift sets:
Christian Dior Fahrenheit
Launched in 2015, this 3-piece set for men is perfect if you want to exude confidence and masculinity all day. The gift set comes with a shower gel that has the same fragrance profile as the cologne. This allows you to literally smell the same from head to toe. Also, the bundle comes with a refillable pocket spray that you can carry with you everywhere you go.
Fahrenheit Men toilette Spray, Shower Gel, Deodorant
This is another 3-piece Fahrenheit gift set from Christian Dior. But it's not the same. The main difference is that it comes with deodorant instead of a refillable pocket spray. You could argue that this makes it a better package.
For one, who wants to carry around a pocket spray everywhere? Also, we all sweat. The least you can do is to make your underarm smell exactly like the cologne you're wearing.
Dior Fahrenheit Xmas
This 3-piece Fahrenheit gift set from Christian Dior is literally the same as the first gift set we listed. The only difference is in the packaging. Instead of a relatively plain-looking box, this gift set has a black box with a more subtle design.
When Did Fahrenheit Cologne Come Out?
Performers Maurice Roger and Jean-Louis Sieuzac first created and introduced the Fahrenheit Cologne for Men for Parfums Christian Dior back in 1988. Prior to this, the two had created popular fragrances such as Oscar and Dune.
Parfums Christian Dior is the producer of the Fahrenheit Cologne for Men.
Parfums Christian Dior is the makeup and skincare line of products of Christian Dior SE. However, the LVMH Group currently owns the line. Although it is worth noting that Bernard Arnault is the chairman of both Christian Dior SE and the LVMH Group. In addition to this, Christian Dior SE holds the majority share of LVMH.
Why Is Fahrenheit Cologne So Expensive?
Fahrenheit Cologne for Men is different from the other 80's colognes. The price has not really gone down since. The likely reason for this is the scent's timeless nature.
The fragrance has held up well over time. This is a good thing because it means that the scent will still remain relevant in the future. But it's somewhat bad because there's a chance that you'll smell like someone's dad or uncle. Or, in worse cases, grandfather.
Where Can I Buy Fahrenheit Cologne?
Because Fahrenheit Cologne for Men is a popular EDT or Eau De Toilette, we recommend that you buy it only from trusted sources.
Here are examples of good online markets:
Fahrenheit Vs Other Popular Fragrances
Fahrenheit Cologne vs Sauvage
If you're confused with Christian Dior's perfume naming scheme, you're not alone. Sauvage and Eau Savage are both different perfumes. Both are also still in production, which only adds to the confusion. However, it's important to take note that the latter is an older scent. The Eau Savage was first introduced in 1966 and reformulated later in 2009. Meanwhile, the former is a more recent introduction, entering the market in 2015.
Both scents also smell different. The newer Sauvage separates itself quite nicely from Christian Dior's older scents. It's sharper and bolder. This makes it different from the classic Eau Savage and Fahrenheit, which both had aromatic citrus scents.
This isn't to say that the scent is more overpowering. In fact, it's quite the opposite.
Unlike Fahrenheit, the Sauvage isn't strong. It's mild and light. You could even say that it lacks depth. Some also argue that it's hard to pick out the fragrance of the Sauvage unless you spray too much, or you spray too close to someone using it. But, despite its lack of power, the fragrance endures. The scent will still last you through an entire day, it just won't turn as many heads.
Whereas the Fahrenheit was powerful, and at times, offensive, the Sauvage is subtle, light, and relaxing.
So, which of the Fahrenheit and the Sauvage is the better scent? It depends. Taste is relative, after all. But if you're looking for something more versatile, the Sauvage is the way to go.
Keep Reading: Difference Between Dior Sauvage Vs Creed Aventus
Fahrenheit Cologne vs Acqua
Similar to Fahrenheit, Acqua di Gio Pour Homme by Giorgio Armani is a classic scent. It has topped fragrance lists since its release in 1996. But while both fragrances are popular and timeless classics, that is where the similarities end.
The Fahrenheit's leathery scent feels somewhat offensive compared to the relaxing fragrance of the Acqua.
Fahrenheit is for men aiming for an aggressive and masculine look. It demands your attention. It wants you to know that it's there. People will not need to get close to you to know that you are using Fahrenheit. They will know, even if they are a couple of feet away. On the other hand, Acqua is different. It's a cologne with a harmonious scent that opens up with a lime citrusy freshness before drying down to a more musky, cedar-like scent.
Acqua is the type of fragrance that people will only smell if and when they get close to you.
Considering the different fragrance profiles of both colognes, it's clear that the market for both the Fahrenheit and Acqua is different.
One is for mass appeal (Acqua) and the other is for a specific market with particular tastes (Fahrenheit).
Final Verdict
One thing that we've made clear with our Fahrenheit cologne review is that it's not for everyone.
You either love the Fahrenheit or you hate it. There's no in-between. You can't feel indifferent to something so powerful and aromatic. But for all of its faults, Fahrenheit has not remained one of the best selling perfumes on the market by sheer luck. The Fahrenheit has a timeless and effective scent that has a lot of uses.
If you ever feel the need to impress and turn some heads for a day, it's hard to go wrong with the Fahrenheit.