The Christian Dior brand needs no introductions especially if you are a perfume expert or enthusiast. The brand was established by Christian Dior in 1946.
Today, the brand has grown to become one of the largest French luxy companies, and a household name. It is now owned by Bernard Arnault, a French businessman and billionaire. The Dior brand made a name for itself after they introduced a new look in the fashion industry, and Ambre Nuit was launched in 2009.
Here is a quick Ambre Nuit Christian Dior review that I have done. Most of the information comes from my personal experience using the product. However, I have used online reviews to come up with an in-depth view of the product.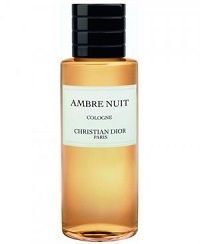 Specifications
The nose behind this fragrance is Francois Demachy. He is a master perfumer who is responsible for some iconic scents like Christian Dior's Fahrenheit 32 (2007). The packaging is simple yet sleek. It is a sophisticated packaging that is not too flashy and can attract both sexes.
This is perfect as the fragrance is unisex. The bottle is clear revealing the golden juice inside it.
The top is easy to remove but is durable enough to protect the atomizer. The atomizer is perfect for this fragrance. It expels a decent amount of juice in the form of a healthy mist. Also, it comes with a no atomizer option.
Features
Fragrance Notes
Top Notes: Bergamot
Heart Notes: Turkish rose, Ambergris
Base Notes: Cistus Labdanum
So how does it smell?
The fragrance opens up with a fresh top note with warm undertones from the heart note. In my opinion, this fragrance has one of the most impressive heart notes ever.
The heart note is mainly an Amber scent. However, it is not your typical scent thanks to the heavy undertone of rose. This is a harmonious blend that delivers a sweet and warm scent.
Finally, the fragrance has a magical foundation that is woody and leathery. This foundation brings out the masculinity of the scent in a subtle way.
Pros
It has a moderate sillage and projection of up to 3 meters. This makes the smell subtle so it does not get too overwhelming in closed spaces.
The longevity is also moderate. It can last from 6 -8 hours. All together the sillage, projection, and longevity make it suitable for office wear.
Finally, it utilizes high-quality ingredients. This makes it safe for use on even sensitive skin.
Cons
The product has no negative side effects. However, you may end up sharing it with your better half. Then again, sharing is caring.
Short List of Christian Dior Perfumes for Men and Women
[wptb id=5101]
Benefits
I personally believe that this scent is very unique in the market. It is a warm, seductive and alluring scent that can be easily worn on many occasions.
Also, the scent will make you feel and look more attractive. You will feel like a new person and are likely to gather a lot of attention. Being the center of attention is an awesome feeling that will boost your confidence to new heights.
Finally, when I wore it to the office I found out that ladies love the scent. I was being constantly complimented. Even though I am married it is nice to receive compliments from a beautiful lady.
I honestly believe that the perfect fragrance can change your life. With this fragrance, you will feel and look more confident. A confident person is one that people look up to with admiration.
Consequently, they are natural leaders who are not afraid to take control of a situation. With this fragrance by your side, you can achieve the respect of your peers.
Who Needs It Most?
I think that everyone needs to look and feel attractive. It is an awesome feeling that brings out their confident side.
Consequently, I think that anyone can use this scent. It is versatile and can be used in and out of the office. Also, it is unisex meaning both men and women can use it.
Summary of Amazon Customer Reviews
This product receives a perfect 5-star rating on Amazon. This means that everyone loves it. For instance, one user says that he gave up hiding it from his wife and decided to buy her one instead.
How to Use it properly?
Moderation is the key to the perfect application. Also, it should be applied to body hot spots in order to gain maximum sillage and projection.
I recommend wearing it all year round except for winter. Finally, it is a great night time wear that is great for a date night.
Final Verdict
This is a very nice product from the house of Dior. I highly recommend that any man or woman should add it to their collection.