The art to the best men's grooming begins with the face look. Before you can put on that nice captivating outfit, you need to ensure your face look is smooth, shiny and spotless. This cannot be achieved without looking into what you shall wash your face with in order to get that natural cute look.
So many men can admit to having used ordinary soap to wash their faces or shave their beards. Of course, this is better than nothing at all but it can potentially clear the oil on your skin leaving it dry. In this article, we shall explore the better and actually the best face wash for men's product options that make your face have that heroic and Superman look.
Factors to consider when choosing and purchasing a face wash
When choosing the right face wash, your skin type and condition is key. There are 5 conditions that define the wash that fits you and they include: Normal skin, dry and itchy skin, oily skin, sensitive skin, and combination skin.
(i) Oily skin
All skins have some levels of oil that smoothen and maintains skin PH and homeostasis. However, some men' skins are oilier than expected due to larger skin pores secreting more. This makes pronounced greasy sheen not long after washing the face. The excess oil blocks the sweat pores leading to a bacterial colony that brings about acne. This creates a necessity to look for a type of wash that regulates your skin texture and oil without leaving it dry.
(ii) Dry and itchy skin
If you have dry and irritating skin, you need to look for a washing agent that has a hydrating and inflammatory property to ensure your face is calm and free from wriggles that might develop.
(iii) Sensitive skin
Some men's faces get irritated when washed with certain agents. You need to look for a face wash which has some ingredients with soothing and calming effect eg. Aloe vera.
(iv) Normal skin
This is the lucky type if you got one, where no irritation, redness, excess oil nor dryness. You, therefore, need to get any face wash with your own preferences like fragrance, and other properties like anti-aging.
(v) Combination skin
Some people have irregular skin properties where you find, for instance, the nose is dry and sensitive, the forehead is oil while the chin is smooth and normal. The ideal face wash is the one that will cater dor all non-uniformity providing hydration on dry parts.
Let's now dig deeper on the face wash products that fit your skin type as we have described.
List of 8 Best Face Wash For Men
Brickell Men's purifying charcoal face wash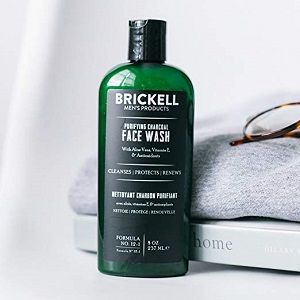 Product Features and their benefits
The wash is made of activated charcoal which is quite potent in doing a deep cleaning that removes all excess oil, irritants on skin pores, bacteria and free radicals. It is the best face wash for men dry skin, sensitive, and normal skin from all ages. The product is not only good for containing charcoal but also other popular ingredients like Aloe vera, Olive olive oil, Vitamin E, C and B esters, Eucalyptus oil leaf among others that help retain moisture, supplement your skin natural oil and keep it younger. The result is smooth and well-hydrated skin.
Brickell, the manufacturing company is a popular and trusted dealer founded in 2014 and sells the products in 20 countries across the world. The product is also popularly sold through Amazon where from customer's experience they have left some reviews that give us its Pros and Cons.
Pros
-It has amazing beneficial and natural ingredients like Olive oil which tops up a dry face with natural oil and charcoal that deeply absorbs bacteria and free radicals.
-It is great for men with sensitive skin.
-It is long-lasting due to its economical quantity need per wash.
-It has no chemicals that can be harmful in long term but only natural ingredients mentioned above.
-It leaves the skin hydrated for long.
Cons
-It is watery making it tricky to apply gently.
-Its scent doe not last after use.
Bottomline
Brickel has made a remarkable impact on men's great look. You can check out the product for purchase at Amazon and get these amazing benefits.
Shiseido Men Cleansing Foam cleanser for men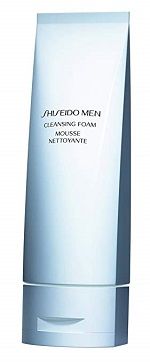 It is a perfect choice and best face wash for men oily skin. It removes excess oil while maintaining moisture the impact being a creamy rich lather and mild skin. It can also be used for shaving as a close shave foam leaving your skin with a smooth face without a feeling of tightness.
The product is quite easy to use with simply mixing it with water on palm plus work up a lather, rub and apply gently in a circular motion on your face then rinse with water.
The cleanser has been purchased by many people especially via Amazon who had testimonials to give. Derived from that, here are the Pros and cons.
Pros
-It is quite easy to use.
-You get prolonged moisturization with a single application that can last in 24 hours.
-It is a great option and best face wash for men with acne which subsides after excess oil is removed.
-It is quite affordable given the popular brand.
-It has an added shaving advantage leaving the skin super clean and calm.
Cons
-It might not be having 100% natural ingredients since the seller has not declared ingredient compositions.
Bottom line
Shiseido company has been there for long in the market and is quite popular for its quality. I would give this product a rating of 4.8 stars due to its amazing functionality. You can access this cleanser today via the nearest shop or from Amazon and get it shipped to you.
Jack Black-Pure clean daily facial cleanser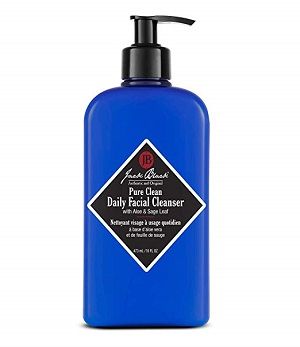 Jack Black is an old market jackal having been there for more than 20 years but regardless of that, their quality towards man's grooming has made them stand out to be visible. Their pure clean daily facial cleanser is a good representative of their input into a stunning facial men's look.
The cleanser in is a two in one product that cleanses and also tones the skin thus helping you to remove excess oil and dirt while leaving it fresh and hydrated.
How it works
The organic ingredients do a great job to your skin. For instance, it contains coconut and oat which are natural surfactants that clean the skin and also Hazel which acts as antioxidant and astringent. Other ingredients include rosemary and organic sage leaves with antibacterial benefits while aloe leaf and chamomile reduce redness and soothe the skin. It is also limitless into acne treatment for men with clogged pores.
Evidently from customer reviews and my experience with the product at Amazon, here some Pros and Cons of the product.
Pros
-Removes dirt and oil completely.
-It has a dual purpose in both cleaning and toning.
-It is sulfate and Paraben-free
-It contains natural ingredients.
-Quite easy to use
Cons
-It is a bit thin compared to other cleansers making it hard for the gradual application to the skin.
Bottom line
The product has so many sales on Amazon with an average rating of 4.2 stars after 407 reviews. This should give you the confidence to go for it with the expected value for money.
Vitamin C facial cleanser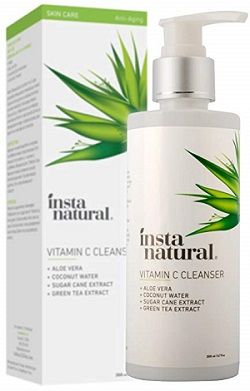 This is a facial cleanser from InstaNatural company. It is regarded as anti-aging due to its vitamin C as a major component.
Features and their benefits
-The product has extreme antioxidant benefits-this is made possible by Aloe and vitamin c components that are known to neutralize free radicals on the skin. The free radicals hasten skin aging thus if neutralized and their impact counteracted, your skin stays young for long.
-Blemish defense-The cleanser when used clears clogged wastes from pores where bacteria accumulate causing acne, there is also an impact on sunburns and discolorations that diminishes.
-Balanced complexion-The combination of natural oils and vitamin C leaves your face smooth and hydrated for 24 hours.
-Exfoliating age reversal-When used alongside Glycolic cleanser, it helps your skin to exfoliate scars and wriggles then new layers are formed which keeps it with a young look.
-Non-toxic due to its natural ingredients not limited to Aloe vera, lactic acid, and cucumber.
The product has been purchased by a huge number of men via Amazon where the majority have left their reviews totaling to 2535 with an overall rating of 4.5 stars. Derived from that here are Pros and cons ;
Pros
-The anti-aging benefit is real and keeps the face skin actively young.
-The content is economical to use, applying a small quantity on a great outcome
-It is quite affordable in relation to its great anti-aging benefit.
-It keeps the skin quite smooth and calm.
Cons
-It is inappropriate for people with sensitive skin.
-The dispenser is hard to squeeze and deliver the content on the palm.
Bottom line
This product is quite appropriate for your fast-moving age if you need to recover your young look. You can order it via Amazon, the best seller.
Lather &Wood's Face Scrub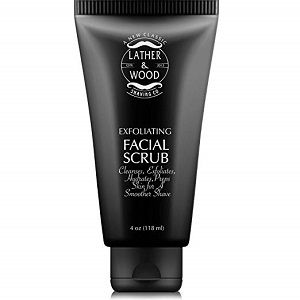 It is a face cleanser from Lather and Wood shaving Company which is well established in the United States. It is a face wash formulated with natural Jojoba beads that helps to exfoliate the dead skin surface and replace it with a rejuvenating new one that is smooth and younger.
Features and benefits
-It is made with natural products with no harsh chemical components.
-It gives you a smoother close shave due to premium formula scrub removing dead skin, oil, and dirt from clogged pores.
Pros
-Great customer satisfaction is rated at 4.5 stars by 217 reviews on Amazon.
-It exfoliates old skin leaving it new and smelling nice.
-It has a very nice smell
-Its natural ingredients give customers confidence.
cons
-It is more of a scrub than face wash due to its coarseness.
Bottom line
This product is fit for your skin and specifically a rough one. It will help you get that amazing shiny face after exfoliating impact. You can go for the product today via Amazon and experience lots of price deals including discounts and coupons.
Chamuel Men Anti-aging mens face cleanser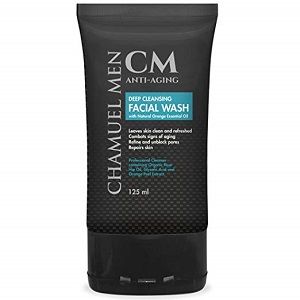 Features and benefits
-Combats acne wriggles-This premium face cleanser is well formulated to target your skin wriggles and clogged pores just like Lather &Wood's Face scrub.
-Specifically designed for men-It has been designed for all types of skin from dry, oily, etc.
-Light, a man-friendly scent that soothes your close friends.
-It has organic key ingredients that include but not limited to Aloe and Glycolic acid and Vitamin C with strong anti-aging benefits.
-It has a very nice fragrance due to the composition of sweet orange oil.
Pros and cons from customer reviews
Pros
-A good skin moisturizer.
-It is quite economical in use.
-Perfect facial hair cleaner
-The anti-aging benefit is great.
Cons
-It might irritate some skins.
Bottom line
Order the product today and experience great customer satisfaction from the Amazon seller.
Ultimate Organic Face Wash with activated charcoal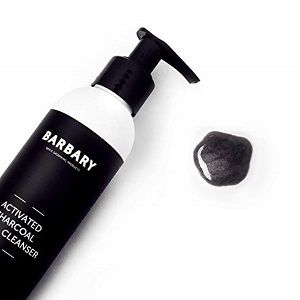 This is a great face wash from Barbary based in U.S.A that makes premium natural products.
Features and benefits
-It contains activated charcoal that deeply cleans dirt absorbs excess oil leaving your skin balanced in hydration.
-It is sulfate-free, cruelty-free and paraben-free ensuring you receive no toxicity.
-Coconut Oil, Organic Aloe, Olive Oil, Green Tea, and Orange Peel together with Vitamin C & B5 Soothe, heal, moisturize and regenerate your skin.
-A blend of orange, Lemon, cedarwood among others gives it an amazing sweet smell.
-It is quite economical requiring to use a pea-size per application.
Bottom line
The product is proudly recommended by many users including myself. From experience, the face wash is quite economical with little application leaving great smoothness and fragrance. My acne cleared within 4 months after using this product. Alongside my input, the other 241 men users have reviewed it on Amazon giving it a rating of 4.3 stars averagely. This should build confidence for you to see how great it is.
L'Oreal Paris facial cleanser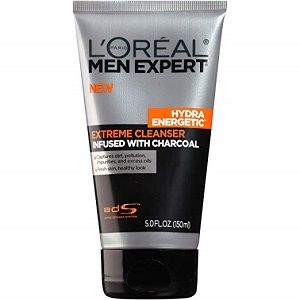 This product from ETC inc. is made of charcoal that has a great absorbing effect as we have seen in other closely related products.
Features and benefits
-Charcoal cleanser-This formulation with charcoal acts as a magnet attracting and drawing dirt, excess oil, sebum and bacteria that clog your face skin pores.
-Perfect for beard skin care-It is also suited for aftershave use to prevent acne from occurring.
-Natural ingredients- alongside charcoal, it also contains citric acid and palmitic acid that are non-toxic to your body.
Customer reviews
Pros
-Long-lasting to use
-Perfect effective face wash.
-Perfect and active acne remover.
-mentioned as the best face wash for men oily skin by many reviews.
Cons
-It has masculine smell thus inappropriate for cross-gender.
-It is not 100% natural since it contains other synthetic ingredients.
From our description list, you can choose one of the eight best face wash for men but remember to consider your skin type from oily, dry, sensitive, normal and combination. This will ensure you get what you need for satisfaction.