Want something that will activate you all day long? Then present yourself the best body wash because your body, your face and your hair need one.
Using a body wash is no longer a taboo anymore. Come on, you all have the right to look fresh, feel fresh.
And the list of 10 best body wash for men that we will be highlighting warrants you that having any one of them will bring out the best in you.
Are you ready?
List of 10 Best Body Wash for Men
1. Pre de Provence No. 63
Make this No.63 your fragrance! This is a kind of get that you can use for both your hair and your body.
The fragrance has been bragged enough to last long, so long that some of the users expressed how much they get tired at the end of the day. But that must be taken as a pro.
It has been made up with Aloe Vera, Shea oil and glycerin so it can work to moisturize and soften your skin.
The gel is able to cleanse gently while rinsing off easily and eventually you can enjoy hydrated hair and body.
And don't worry its fragrance will get very mild about an hour so it will not interfere with any cologne you use.
However, the only little con is that the gel does not get very foamy. Otherwise, it's the best body wash for men.
2. 18.21 Man-Made 3-in-1

Wanna experience lavish hydration and cleansing? Then go for this 3-in-1 body-wash by 18.21 brand.
This liquid soap is not only multifunctional and effective but also gives you a delightful fragrance of pipe tobacco.
Moreover, you will get shampoo, conditioner as well as body wash just in the form of this liquid soap. So, the soap lets you use it from head to toe that includes your face and your hair for sure.
Having been formulated with Hydrolyzed Jojoba Esters, Hydrolyzed Quinoa, and Macadamia Glycerides, the body wash has been made free of sulfate and paraben to make your skin healthy.
Besides, you'll also love the amount of lather it produces to provide your body and your hair with strength and luster.
However, some of the users didn't like the soap using it since it made their skin a little dry. That said, it has a lot of upsides that you cannot just deny.
3. Old Spice Fresher Collection Fiji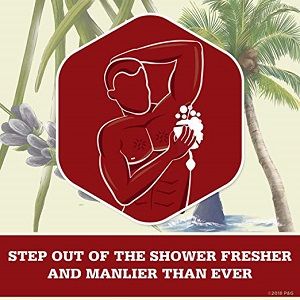 Kick out dirt and odor with this Fiji scented body was by Old Spice!
It comes in a set of three body-wash bottles with each of them weighing 16 ounces, so it won't be very easy to finish the bottle soon.
The lather feels refreshing despite the fact that you will not get thicker foam which is stated to be a little weak link of the soap.
But never mind! The soap is able to make you feel hydrated and smooth while whisking you away with its fragrance. Plus, it also gives your hair as well as your skin a healthy vibe.
To speak of its ingredients, the brand has infused Sodium Lauryl Sulfate that can irritate your eyes. However, if you think it's not causing irritation, then you can use it safely.
4. Brickell Men's Invigorating Mint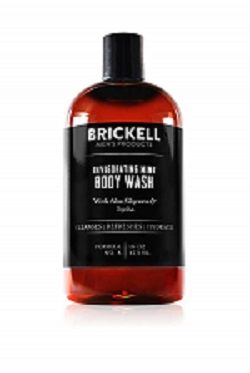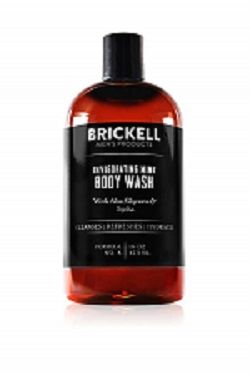 You can find the best body wash for men in the form of this Invigorating Mint by Brickell.
This is stated to be their organic body wash that can cleanse your body and hair deeply while eliminating oil, grime, sweat, exhaustion, and everything
It has been made with vitamins and extracts that help in moisturizing your skin while adding coconut and tea tree oil can make you get rid of skin oiliness. 
Although some of the users did not get any help since it failed to moisturize their skin but the amount of such complaints is just insignificant.
That said, you will also love the mint vibe of the body wash as it will keep you fresh for a longer time.
Plus, it froths enough to give you a satiating result.
5. Purely Northwest Antifungal Tea Tree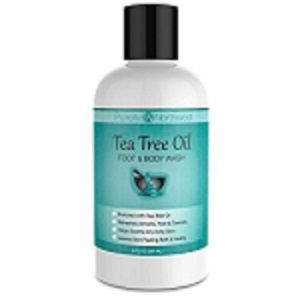 You surely want a solution to all your skin problems right? Then grab this best body wash for men by Purely Northwest.
It has been infused with botanicals and essential oils so it can make your body healthy and free of all the issues.
It contains antibacterial and antifungal properties that make all the bacteria and fungi get washed up from the skin. Not just that, it also shoos away odor to make you smell good.
To add more, it can make you get rid of the itchy scalp as well as other skin irritations besides eliminating ringworm, tineaversicolor, jock itch and athletes foot from your life.
You will also find ingredients such as Aloe Vera, Oregano, Eucalyptus, Vitamins, Atlantic Sea Kelp, Peppermint and tea tree oil that help in soothing itchy skin and leave it healthy and soft.
However, some of you might not like the fragrant of the body wash. But no worries, it does not stay after an hour of applying.
6. Puracy Natural Citrus & Sea Salt Shower Gel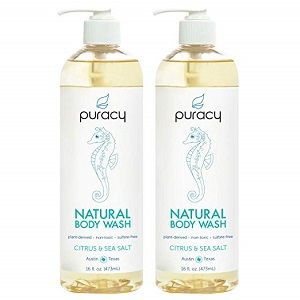 Feel good with this best body wash for men by the brand Puracy.
Having formulated with sun-ripened citrus and pink sea salt, it is able to balance and purify your skin well.
To add more, you will find the gel absolutely free of all the harmful chemicals. The brand also boasts it to have made with natural ingredients like plants.
Users love the way it eliminates impurities while enriching hydration to make your skin soft and clean.
If you are an orange smelling fan, you will also love the fragrance of it.
Moreover, being a coconut-based cleanser, it also produces luxurious lather to wash your hair, face, and body.
However, some of the users felt awkward using the pump since they find it way too small. But this is just a minor con.
7. FineVine Antifungal Tea tree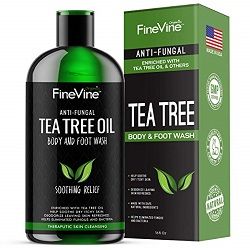 If you want the best result, then you should go with this FineVine body wash.
It has tea tree oil that has been infused to make you get rid of different skin irritations such as nail fungus, acne, eczema, athlete's foot, scabies, lice and much more.
The gel also features organic olive oil that works with hydrating squalene and anti-aging antioxidants so that it can moisturize your skin from the depth.
You will also find Aloe Vera ingredient in the get that contains a proteolytic enzyme which helps in repairing dead skin cell while shooing away impurities from the skin.
It also features anti-bacterial and antifungal properties, thanks to coconut oil ingredient that makes your skin free of all the negatives.
Although, its fragrance is not very strong it is capable of removing odor from your body.
8. Brickell Men's Rapid Wash3-in-1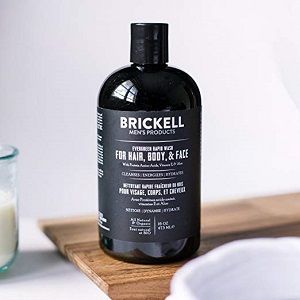 Brickell surely knows how to impress men rapidly with their awesome Rapid wash.
If you grab Rapid, you will have shampoo, conditioner, and body wash in just one bottle.
The brand boasts it to have packed with vitamins, Aloe Vera and extracts that will work to moisturize your skin and body scalp. It also has coconut ingredient that helps eliminate grime and oiliness and energize your body as well as your hair.
The Rapid comes in refreshing evergreen, woody fragrant that will make you smell great. You will also love the product how it helps keep the bad odor at bay.
It also generates enough foam even with a little amount that will help cleanse your body, face, and hair.
However, the only problem is that it's quite pricey. And users felt that they can get the same kind of result even in a cheaper body wash.
9. Axe Frozen Pear and Cedar-wood Scent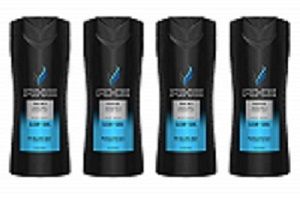 Axe is stated to be a brand that provides powerful fragrance with powerful functioning be it a body spray or body wash gel. As for this product, you can state the same. 
This shower gel has been combined with pear, cedar-wood, bergamot, and rosemary that help keep you fresh all day.
It also produces revitalizing lather through which you can cleanse your body even with a little amount.
Not just that, you can also use it on your hair so that it can keep both of your hair and body healthy.
The best part is that its smell will not be annoyingly strong that many of Axe's body spray happens to be. But yes, the body gel will surely help in removing odor from your body.
You might not like the container since many of the users felt cheap. But that doesn't matter anyway!
10. Axe Apollo Sage and Cedar-wood Scent

Squeeze the Apollo out to be active all day long.
It does not only make you feel clean and fresh but also helps in rejuvenating you with a classic fragrance which is the main signature of Axe.
Having infused with fresh sage, green fruits, and cedar-wood, the Apollo comes with a very pleasant smell.
Its foamy lather is enough to cleanse your whole body from head to toe, just like the previous product.
However, some of you might think the fragrant to be annoyingly strong so it can turn the mood of your nose down.
Buying Guide
Things to consider:
Moisturizer:
Try to go with a body-wash that help moisturize your skin. It'll not only help you get rid of dry skin but also help in keeping the skin healthy for a longer time. If you think you are having this stretchy like feeling while smiling, then using a moisturizing body-wash gel will work to remove that elasticity feel. Ingredients like Aloe Vera, Vitamins and other extracts help a lot in acting as a moisturizer.
Ingredients to embrace:
Look for ingredients like Aloe Vera, vitamins, proteolytic enzyme, tea tree, oregano, pink sea salt, sun-ripened citrus, glycerin, Shea oil, coconut oil, and other botanicals and essential oils. Plus also check out if the body wash has antifungal and antibacterial properties. All of these ingredients help a lot in making your skin soft and healthy while removing impurities.
Not just that, they also work to eliminate oiliness, sweat, grime from your skin. Besides, these ingredients also help in keeping nail fungus, ringworm, acne, eczema,tineaversicolor, athlete's foot, scabies, lice, jock itch, and other skin irritations at bay. If you have sensitive skin, you can also go for medicated body wash.
Ingredients to eschew:
Beware of ingredients that contain harsh chemicals like Propylene Glycol, Sodium Lauryl Sulfate that can irritate your eyes, scalp and damage your hair follicle since they are stated to be harsh elements. Also, ingredients like Alpha Olefin Sulfonate can be toxic enough to cause damage.
Plus, you should also avoid ingredients such as castor oil since it can cause irritation as well as allergies. Not just that, having chemicals like Diethanolamine and  Triethanolamine can also provide toxic effects that can put you at risk.
Lather:
Make sure the body wash you will get produce a lot of lather. If the body wash is thick, you can guess that it can produce much lather. If it does not froth well, you might struggle to cleanse your body and hair well. Since lather helps in rinsing you properly, it is important to take it into consideration.
Multi-tasker
You can call a body wash perfect if you can use it on different parts of your body. There are different products that combine a shampoo, conditioner, and liquid soap and come in the form of body wash. So grab the one that has "all-in-one" factor so it can be used on the body from head to toe. They will not only keep your body healthy and soft but also keep your hair the same. Such body wash also has an operative and long-lasting effect.
Fragrance:
One of the most important features but not as much as the effectiveness of the product. Look for a body wash that comes with pleasant fragrant that should not be annoyingly strong. It should last longer and also help in eliminating odor from the body so that it can make you smell good all day long. You can look for a smell like spicy, musky, woody or tobacco one. But the fragrant should make you feel fresh.
Wrap up
Let's face it! your whole body needs extra care if you want to feel healthy. And using body wash in the shower can act as the best medicine at the moment. So, why not get one of the 10 best and check out the difference yourself?