Hair gel is a product that will help you bring out your A-game when it's about styling the hair. The market is filled with gazillion hair gels but not all will serve your hair in the best way. You need to be extra cautious when it comes about hairstyling as getting a bad product will not ruin the overall styling but also damage your hair in the long run.
Choosing the perfect hair gel to keep your locks in shape is quite a daunting task. Well, we might have a solution to keep that unruly hair in their position. So, keep reading through this article as we have got the best hair gel for men that's available in the market so that your hair never disobeys you.
List of Our Top 10 Best Hair Gel For Men
Johnny B Mode Styling Gel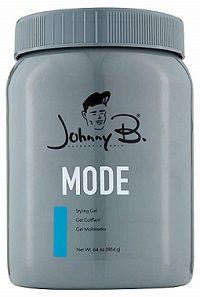 Since its inception in 1994, Johnny B took the styling world by storm. The unique texture of the gel will help you style your hair in any way you want. It's a powerful gel that works wonder on even rough and coarse hair and keeps them in place all day long.
Johnny B has a thick formula that holds the hair amazingly well. There are many hair gels that makes the hair look rough and lifeless, however, the alcohol-free formula of the Mode gel helps to preserve moisture in the hair which gives the hair a nice natural look.
It's water-soluble hence it's very to clean as well. Little goes a long way this product so a small tube will surely last you a while.
Pros
Gives a natural look to the hair
Easily washable
Little product is needed to style the hair
The alcohol-free formula holds moistures
Cons
The smell may seem overpowering to some people
Style Sexy Hair Hard Up Gel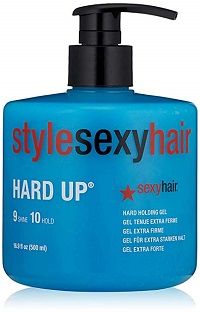 Flaking is a common issue with hair gels, so, if you're tired of your hair gel being flaky then it's high time you give the Style Sexy Hair Hard Up Gel a try. The hold level with this hair gel is absolutely phenomenal.
The secret behind such a stronghold in this product is the wax base. You can apply this gel to both wet and dry hair. It'll get locked in the hair within few minutes with dry hair and if you prefer a more tousled look then you may apply the hair on dry hair and then blow-dry for better volume.
Washing off this bad boy can be a little tricky as it provides such a strong hold. However, make sure you don't use a handful as a dollop of gel is good to hold your hair throughout the day.
Pros
Very strong hold
A little amount is needed
Suitable for all sorts of weather condition
Can be used on both dry and wet hair
Cons
American Crew Classic Firm Hold Styling Gel

If you're having issues with your hair gel not holding properly then give the American Crew Classic Styling Gel a try. No matter how rough or coarse your hair texture is, this gel will keep your hair in place just like the way you want it.
This gel works great on both wet and dry hair. The American Crew Gel works well for short to medium length hair. However, this doesn't make hair look rigid like many other strong hold hair gels out there. Also, if you're looking for a gel with a lot of shine then this might not be your perfect fit.
The American Crew Styling gel is absolutely alcohol-free and contains many natural ingredients such as Panama bark, Vitamin B5, sage, etc. The smell of the product is quite soothing and not overpowering at all.
Pros
Provides a strong hold
Suitable for all types of hair
Soothing smell
Contains lots of natural ingredients
Cons
Doesn't provide much shine
Available in only one size
Royal Locks Curl Cream Gel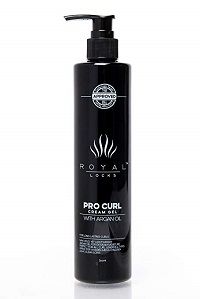 Curly hair is hard to manage and there aren't many products in the market to tame those unruly locks. The Royal Locks Curl Cream Gel gives the hair a natural shiny bounce without making is flaky or crunchy.
It contains Moroccan argan oil without any paraben or sulfate which keep the frizz away giving the hair a nice healthy glow throughout the day. No matter what the hair texture is, be it natural curls or permanent ones, this gel works well with all sorts of textures.
This gel is made with top-notch ingredients that simultaneously work to moisturize, repair, nourish, and volumize the hair at the same time. Despite being a hair gel, it also works as a leave-in conditioner which will help to keep your hair at bay for long hours.
Pros
Suitable for curly hair
Gives a natural shine to the hair
Works as a leave-in conditioner
Cons
Not an ideal choice for straight hair
Gentlemen Republic Refined Molding Gel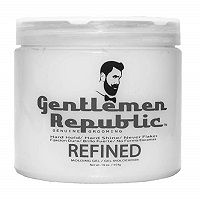 The Gentlemen Republic Refined Molding Hair Gel is a strong hold gel that will keep your hair in place for hours. Along with super strong hold, it also provides shine to the hair. It has a humidity resistant formula, so, no matter how hot and humid the weather is, your hair will stay just the way you styled.
The Gentlemen Republic has a 100% alcohol-free formula which makes zero flakes. The tub is quite big so it'll last you a very long time. It is suitable for short to medium length hair as it gives them the perfect amount of volume with the utmost hold.
Little goes a long way with this hair gel so you don't need a handful to style your hair in your favorite way. Also, the gel is easily washable so you'll have no problem washing it off at the end of the day.
Pros
Smells great
Alcohol-free formula
Provide strong hold
Cons
Available in only one size
Smooth Viking Hair Styling Clay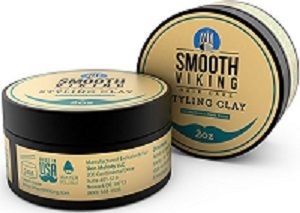 The Smooth Viking Hair Styling Clay is a super strong hold hair gel that will keep your hair in place all day long. This is a must-try product for those who're an avid fan of non-shiny hair products.
This gel has no fragrance at all which is great news for people who're sensitive to smell. It's a water-based product, hence, it's super easy to clean off despite the strong hold.
The Smooth Viking Clay is a great choice for you if you're an athletic person as the formula of this styling clay helps it to stay in place regardless of the weather condition.
Pros
Holds the hair in place all day regardless of the weather condition
No fragrance
Works in a similar way as styling creams and gels
Cons
Doesn't provide much shine
Old Spice Swagger Hair Gel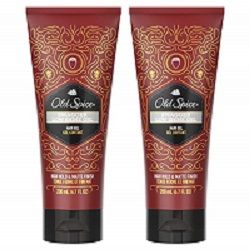 Old Spice products have been there forever and they sure don't need any introduction. As the name suggests, this product will surely bring out the swagger in you.
This hair gel doesn't give out your hair the excessive shine and make it look oily. Instead, it will give the hair the perfect texture while keeping the hair styled all day long. However, some people prefer the shine so if you're one of those then you may give this one a pass.
The Old Spice Swagger Hair Gel is a perfect fit for all types of hair. It will help tame the roughest or coarsest hair and keep it styled through the day. It has the signature Old Spice smell which is loved by most people. So, even if you have a sensitive nose, you'll adore the smell of this product.
Pros
Suitable for all sorts of hair texture
Have a nice smell 
Keep the hair styled for long hours
Cons
FRAGFRE Styling Hair Gel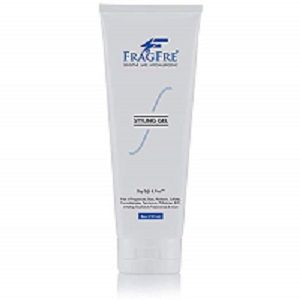 The FRAGFRE Styling Gel is a fragrance-free styling gel that gives zero flakes or crunches to the hair. It's suitable for all kinds of hair and even the most sensitive ones will face absolutely no trouble with this gel.
The formula of this product is extremely safe and it can also be used by both male, female and even by children. It has an alcohol-free formula which will keep the hair styled and nourished at the same time.
Along with no fragrance, it's also free from harmful chemicals such as paraben, sulfate, formaldehyde, and petrolatum. It creates no flakes or white cast on the hair and the hair stays in place even in the most humid environment condition.
Pros
Fragrance-free
Suitable for male, female and children
Free from harmful chemicals such as paraben, formaldehyde, sulfate, etc.
 Keeps the hairstyles through humid weather 
Cons
Available in only one size
Got2b Ultra Glued Invincible Styling Hair Gel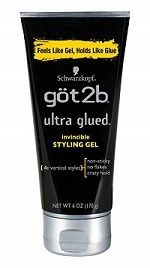 The Got2b Ultra Glued Hair Gel has made hair styling easier than ever with its unique formula at a jaw-dropping price. As the name suggests, this bad boy will keep your hair glued and styled all day long.
The formula of this hair gel is suitable for people with thick hair texture. It creates no flakiness or crunchiness in the hair, rather keeps the hair styled and nourished through the day. This gel has a super strong hold that will help you style the hair with little to no effort.
It has a light water-based formula which is easily washable with just a little amount of shampoo. It has a soothing yet strong fragrance which might be bothering for people who prefer fragrance-free products.
Pros
Ultra-strong hold
Easily washable
Nourishes the hair
Cons
TIGI Bed Head for Men Power Play Firm Finish Gel

TIGI is known for creating top-notch hair care products and the Power Play Gel is one of their finest creations. This gel is a perfect fit for people who prefer a moderate hold instead of a super strong one.
It's suitable for men who have long and thick hair and prefer a natural look. It has a smooth texture with a non-greasy finish that will give the hair the right texture and volume rather than making it look excessively oily or greasy.
The Power Play has a creamy texture that has an easy clean off formula. You can easily wash it off with shampoo and water with just a little time.
Pros
Suitable for long and thick hair texture
Moderate level hold
Doesn't make the hair look greasy or oily
Cons
How to Apply Hair Gel to the Hair in the Right Way?
Styling the hair is not rocket science but you sure need to maintain a few things to keep it styled through the day.
Applying too much hair gel will not keep your hair styled for a long time instead it will make the hair greasy and oily. So, choose the right amount of gel in accordance with your hair texture and size.
Rub the gel in your palm for a few seconds and warm up the product before applying it to the hair.
Hairstyling products work best on clean hair. So, make sure you wash your hair prior to applying the gel.  
The tool that you use to style plays an important role. Some prefer to use fingers whereas some use comb or other tools, so, make sure whichever tool you use fit your style and the gel's texture.
FAQs
Q. Are hair gel and hair pomade the same thing?
Ans: Hair gel and hair pomade are both hair styling products. One of the prime difference between these two is the texture of the products.
Q. How do I wash off the gel?
Ans: Water-based hair gels are easier to clean off. However, oil-based gels are a bit trickier so use lemon juice or shampoo twice to wash off the grease from oil based gel.
Q. Is hair gel harmful to hair?
Ans: Well, it depends on your hair and skin type. Make sure you read the ingredient list before buying the gel to ensure that the ingredients used in the product will not damage the hair.
Conclusion
Styling your hair not only makes you look good but also boosts up your confidence. There are tons of products out there but we have picked out the best of the best from them. No matter which product you use, make sure it matches your hair texture, weather condition, and styling preferences.