It has an oriental fragrance; it can be used by both men and women and was launched in 2012. Oud Ispahan has a strong, unique rose fragrance.
The following article will look at Christian Dior oud Ispahan review at both my personal view and of those who have used it. Christian Dior sells original genuine and branded products, and they don't at any time sell imitated products.
Specifications
This belongs to the family of Oud and rose blends. It contains labdanum that gives oud Ispahan its own distinct character. It has a slight feminine fragrance of which is a key aspect of the perfume.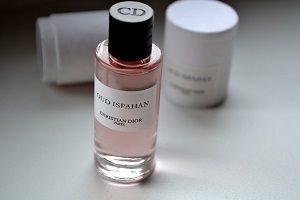 It is slightly powdery, and this means it lies more on the feminine side and should be used by them. Nevertheless, it is unisex, and therefore, men can comfortably use it effectively and enjoy it as well. In my case, I prefer to use it at night.
Keep Reading: The Elegance and Excellence Maison Christian Dior Review
Features
Oud Ispahan, when opened, is like opening the door to a palace and struck by the pleasant fragrance. It has a burnt wood smell blended with floral water like when you are washing your hands.
The fragrance is so smooth to the atmosphere whereby frankincense resin and rose, linger. The perfume has sensational and velvety, and the aroma is that of oriental rose. The fragrance is floral-woody. Projection and longevity are good.
Pros
I am in love with oud fragrances, and this has become a masterpiece and has high performance. The sophisticated sweet and dark vibe is perfect for my senses. It came as an ideal blend of woodiness and rose. It is a perfect masterpiece for Christian Dior.
Cons
In case rose oud fragrances are not your scent and not pleasing to your senses, this is not the perfume for you.
Benefits
It has an exotic opulent mysterious and very addictive fragrance. This smell is there all the time, and even after washing, the fragrance is still there.
It has a westernized typical classic perfume. It a perfect perfume that can be used on all occasions, and this got to be my favorite perfume I wear.
The more it is on the skin, it becomes softer and more feminine, but in the beginning, it is, to some extent, harsh and, thus, possibly more masculine. The fragrance is so excellent and makes me feel like a king.
The Oud ispahan is pleasant, not so shouting and wearable. Its fragrance is like a super bomb that's dropped and can smell it even when being far away.
The fragrance lasts so long and cannot get washed away easily. If the ingredients aren't your favorite, this isn't a perfume for you.
Who Needs It Most?
Rose Oud & Patchouli blend is the main common combination in this perfume, and it is very safe to use. What I can say is that this blend is, in particular, breathe taking.
The Oud dries downwards, gets a much sophisticated soft and smooth fragrance of labdanum rose and Oud. The overall unique oud fragrance that can be used by oud lovers.
Summary of Amazon Customer Reviews
It has a classic precious oud with a strong rose fragrance that gives me increased self-esteem whenever I am with people around me. They also give me positive complements and would give it a five stars rating
For those who love heavy roses scents, oud Ispahan is inviting refreshing, and a feeling like that of a royal experience. The patchouli and labdanum are incredible as they reinforce the overall freshness and uniqueness.
How to Use it properly?
Oud Ispahan is sophisticated and glossy. It has clean, silky western oud original fragrance; the oud fragrance is polished to bring out the woody note.
In the recent past oud and rose fragrances have been on the rise since they are soft tender and are unisex.
Final Verdict
I always get pleasure from wearing and smelling Oud, labdanum, rose, patchouli and sandalwood, in any life.
This one, particularly, is not that screechy and I think it is balanced well. The base has added sweetness to it.