Here are few sellers sell Baccarat Rouge 540 that you probably want to consider. Each has pros and cons that change over time. Here is what you need to know to choose the most useful every time.
Time to get a Maison Francis Kurkdjian Baccarat Rouge 540
Francis Kurkdjian launched Baccarat Rouge 540 in 2015. This scent took a while to take off, as at first, it came across as another generic clone of designers' perfumes. But, soon enough, a single Baccarat Rouge 540 sample would have been sufficient to attract more and more customers.
It is a very complex and particular blend that reminds you of the most unbridled luxury environment you ever dreamed about.
However, customers must deal with the price every time they are ready to buy a bottle. The Baccarat Rouge 540 price has never been cheap. Plus, whoever bought at least once this product knows that different batches could smell quite differently or offer diverse performances.
Keep Reading:  How to Buy Baccarat Rouge 540?
Surely, to save on the total cost, you might want to check the Baccarat Rouge 540 200ml price, which is the "get more, pay a bit less" alternative to the "pay less, get what you can" option of buying a Baccarat Rouge 540 travel set. While the choice is yours to make, here is what you need to consider about the seller.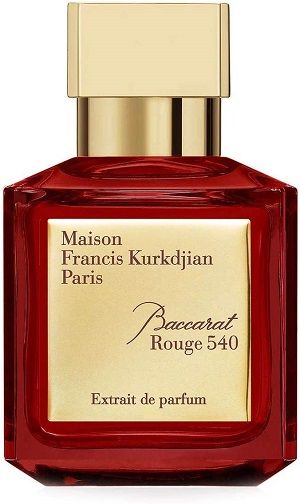 Who do you want to entrust your money to when buying the expensive Baccarat Rouge 540?
On its website, Maison Francis Kurkdjian shows a list of the official points of sale where you can buy their original products. This is the best option to get you a 100% authentic bottle of Baccarat Rouge 540. However, their resellers will not be the one who sells Baccarat Rouge 540 at discount prices. You will end up paying the full list price, or, most likely, a little bit more, due to the cost of the boutiques as the prices rise during the year.
Keep Reading: Is Baccarat Rouge 540 unisex or Should You Go for a Different Scent?
You can opt for big online resellers. Then, Amazon will quickly take first place on the podium. Amazon is easily the reseller who sells Baccarat Rouge 540 at the best discount prices all year around. This is the most trustable source for purchases as the company will costumer protect each transaction. In the unfortunate event that a horrible mistake happens, you have the best options to come out of it with all the help that the customer care staff can give to you. The only reason against choosing Amazon is if they somehow don't offer the best price, which rarely occurs, and it is easily preventable.
Then, you have the local buy groups on social media. Ordinarily, these are great to fetch you a deal. Unfortunately, you want to go easy on this when it comes to a bottle of Baccarat Rouge 540. Think about it: why would anyone sell a good bottle of BR540 if the juice was spot on? Groups are great for trading more reliable perfumes, and you might get lucky. But, you won't have customer protection. So pick this one if you know what you are doing.
In case you do not know where to start
As mentioned, there are alternatives to buy the standard full bottle. I would like to add a few words in presenting the pros and cons of buying each. Let's find the right product for you to try Baccarat Rouge 540!
The Baccarat Rouge 540 sample comes in several formats, so be aware of how much liquid you get. Some sellers may offer you a mini bottle that makes the price rise without adding anything to your final experience. The sample is for everyone who wants to try this scent.
Samples are great to get an idea of the formula. But, you might want to consider a full 0.33 oz (10 ml) decant to undergo full-body experimentation. The little atomizer of samples requires you to spray the liquid more times. Thus, it increases the chances of wasting some puffs. Decants have slightly bigger bottles. So, the atomizer somewhat resembles the standard ones and achieves a better distribution.
The BR540 200ml bottle will give you more bang for your buck. You get the best atomizer and quality juice. Most likely, this is an alternative that you better not put aside only because of the Baccarat Rouge 540 200ml price. Yes, it is a high price to pay. But, you will probably get the most performing batches. This is not a guarantee, yet most producers divide batches at the beginning of the production cycle.
Most likely, a single batch of liquid for the highest-priced bottles for sale will receive the best quality control. That is because an error in the creation of that single batch would determine the loss of hundreds of units. This is just a little something to think about whenever choosing the desired format. Pair this information with the most appropriate customer protection system you can find, and you will be fine.
Finally, we have the Baccarat Rouge 540 travel set. I thought about this because of the charming design, so I better explain what it is all about. The BR540 travel set is a great gift idea for anyone who loves Baccarat Rouge 540. The travel set features a crafted spray vial container, called Globe Trotter Gold Edition, and five refills of highly condensed perfume.
Maison Francis Kurkdjian also offers a mini set with just three refills. Each refill spray holds 0.37 oz (11 ml) of Extrait de Parfum of Baccarat Rouge 540. Both sets are highly priced and marketed as exclusive gift ideas to a high-end audience. They would be a delightful addition if you found a clearance sale, as counterfeiters rarely sell fake travel sets at the moment. It is still possible to find fake travel sets, but the odds of finding a counterfeited set are slimmer.