Tom Ford men's perfume is a smart buy for today's man. Eau de toilette spray is a must-have for daily use or special occasions. Sometimes, it's the little things that make all the difference.
Whether you want to present well at work or you need a boost for your next blind date, Tom Ford has a great scent for you. Check out the meta-review below to read more about the 3.4 ounce EDT spray from Tom Ford.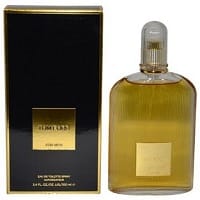 Specifications of Tom Ford Mens Perfume
The shipping weight for the Tom Ford men's perfume bottle is only 11.2 ounces. The product is one-and-a-half inches cubed or 3.4 fluid ounces. If you want to know the model number, it's "TFT035". The average customer reviews at top online sellers and other resellers are four stars or higher on most sites.
You should always buy the authentic article. Look for the original packing with the official Tom Ford mark. Avoid buying knockoff and counterfeit goods online. This scent and product model came out in 2007. The golden bottle reminds you of the golden age of Hollywood and west coast glamor.
Consider reading as you need from the following review articles:
• In-Depth Review of the Tom Ford Costa Azzurra fragrance
• In-Depth Review of the Tom Ford Tobacco Vanille
• Tom Ford Oud Wood cologne Review to Inform You More About This
Features
This is a fantastic Tom Ford product with a unique fragrance profile. Some of the featured scents are floral and fruit tones like violet, orange, and lemon. It also has a rich, rustic note from bergamot, cedar, and leather.
There is some darkness in the scent, too. Ginger, grapefruit, tobacco, and a few other notes round out the rich manly tones of this excellent perfume for men. Overall, the main notes of the perfume are citrus, spiciness, wood, fresh greens, and tobacco. This is a men's perfume for the refined, modern man.
Pros
Tom Ford men's perfume smells great and it offers a refined gentlemen's impression to anyone around you. It's not too dusky or smoky, but there is a bit of tobacco and mystery lurking in the scent profile. The top notes of ginger, lemon, orange, and basil make it fresh and pleasant. It's not too overpowering, especially if you don't overdo it on the application.
This isn't a good choice for teenagers, but if you are a discerning modern man, you should check it out. It's above average in cost but you get a high-quality product. It generally scores very highly on scent and projection but only gets average or poor longevity points in most online reviews.
Cons
One of the consistent complaints about this fragrance is the longevity of the scent. Some people say the majority of the scent is gone within an hour or two. Others say it's about average, around four hours long. You might look around if you want something that will last eight hours. If sillage (the "wake" of your scent) is something you want, you might consider something else.
Many online reviewers say that they didn't get much of an after-effect as they walked around wearing this Tom Ford fragrance. The other consistent complaint is that the scent is dull and uninteresting. There's no pleasing everyone, but this scent certainly has a "traditional" fragrance profile. One user described it as "forgettable" but it's never going to please everyone. Most reviewers loved the product.
Benefits
The benefits of buying Tom Ford men's perfume are many. It's a luxury product aimed at a discerning taste with access to the top retailers. You won't find this stuff sold just anywhere. The bottle looks great on the shelf, and the spray performs well long after the supply expires.
This fragrance is not overpowering but it will make an impression in close quarters. It has a fresh, pleasant scent profile with woody and citrus undertones. Your wife, girlfriend, and all your female friends will tell you this is a ladies' favorite. If you read the reviews online, many guys report this fragrance as their wife/girlfriend's preferred scent for them.
The best benefit of wearing Tom Ford is the attention to detail in the fragrance. You don't just have one or two main scents and then a few other ones behind it.
The producers at Tom Ford carefully built up this fragrance profile to offer a complete experience for the user. The head, heart, and base notes all work together to form a symphony of scents. The fruit notes mix perfectly with tobacco and spices. The woody notes mesh well with the ginger tones. It's just a wonderful perfume.
Keep Reading: 5 Top Tom Ford Perfume for women
Who Needs It Most
The most likely buyers of Tom Ford's products are middle-aged men with refined tastes and a modern outlook on life. This isn't a cowboy perfume and it's not a teenager's body spray.
Tom Ford designs products for a cosmopolitan man looking for a fresh and complex fragrance. If you haven't tried this one yet and it's within your budget, you should consider purchasing a bottle to see if it's a good fit.
Summary of Amazon Customer Reviews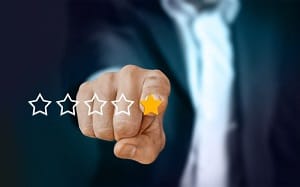 Tom Ford men's perfume is a good buy based on online reviews. Most sites rank it as one of the better options for men's Eau de toilette (EDT). It has lots of five-star reviews on Amazon. Most of the one-stars and complaints revolve around the price point and the weakness of longevity. It's tempting to write them off completely, but some of the rave reviews also mention that it doesn't last as long as they hoped.
Overall, it's very well reviewed and maintains a loyal following. Some of the people complaining about its lack of a long-lasting effect seem to expect fragrances to last longer than four hours. One of the ways to make your fragrance last longer is applying it underneath your clothes on your biceps and chest.
How to Use it Properly
It's easy to use Eau du toilette (EDT) spray if you follow a few simple instructions. The first thing to establish is your application amount. Know your limits and stay within them. Since your nose stops smelling the same scent after only a few minutes, it's hard to judge yourself. You should always err on the side of caution. Less is more.
The other important thing to remember is application technique. Never spray directly on clothing and maintain a six-inch distance (at least). If you form little puddles on your skin, you're overdoing it. One common technique is bicep or chest application. This seems counterintuitive, but it works. If you want a subtle and long-lasting fragrance, try spraying it on your skin before you cover-up.
Tom Ford men's perfume is a smart choice, but it's not always within everyone's budget. Tom Ford built a fashion empire as one of America's leading designers. He is a fixture of the American fashion scene. Jay-Z is one of the biggest fans of Tom Ford. He even named one of his songs after the fashion icon. This is a modern, stylish, and progressive fashion house.
Tom Ford produces high-quality goods, and this fragrance is no exception. It might not last as long as you'd like, but it's a fine choice if you can get it at a good price. Tom Ford is a sensible choice for a modern man, but it's not going to blow you away with a crazy new take on men's fragrance.