Fashion is a highly competitive market. The fashion house Tom Ford is one of the biggest names in fashion. They have a wide range of products such as fragrances, jewelry, and clothing.
This company was founded in 2004 by Tom Ford. Tom is a well-known fashion designer who has also dabbled in film. In 2014, his company released Costa Azzurra.
Below is a Tom ford Costa Azzurra reviews. I have used personal experience with the product to come up with most of the information. However, I have also taken to account various reviews to give you an in-depth view of the fragrance.
Specifications
This unisex perfume was created by the perfumer Yann Vasnier. He is a renowned perfumer who has worked on many iconic fragrances such as Adam Levine's Adam Levine for men.
It is also part of Tom Ford's private collection. The box and bottle maintain the same theme as all fragrances in this collection.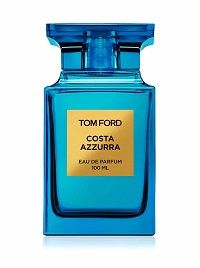 The box is ocean blue in color. What makes this box so interesting is that you open it by pulling it off. This exposes the signature blue bottle resting on a golden platform.
Another sophisticated touch is the golden writings on the bottle and box. The sprayer is also nice and works perfectly for this fragrance.
Features
Notes on the Fragrance
Top Notes: cardamom, celery seeds, driftwood, ambrette, agarwood, and seaweed
Heart Notes: Artemisia, yellow lemon, lavender, myrtle, mandarin, and juniper
Base Notes: oak, vetiver, vanilla, lentisque, incense, olibanum and
Pros
This fragrance company is not new to the perfume game. You can rest assured that their products are of high quality.
For instance, this spray is made from high-quality ingredients that are safe for your skin and clothes. Also, the company is very thoughtful and has offered it in several bottle sizes.
This means you can still enjoy the fragrance even when your budget is low. The longevity is good. You can get 7-10 hours from it. The projection is moderate and makes it easy to wear.
Cons
The only downside to this product is that you have to be cautious when purchasing it. This is because the company has released some flankers of this scent.
Keep Reading: Which is Better Between Tom Ford Oud Fleur Vs Oud Wood?
So how does it smell?
Well, the opening notes have a salty and marine fragrance. This fragrance is reminiscent of the ocean.
Next, the heart notes are citrusy. This is what offers the fragrance a refreshing and revitalizing power. Finally, the base notes consist of woodsy and earthy fragrances. This offers the fragrance a masculine scent.
In general, the whole fragrance is a harmonious blend of marine and citrusy notes with woodsy undertones.
Benefits
This product has an awesome scent that is playful and alluring. This is awesome as it can make you feel and seem more attractive. Consequently, you are likely to have a great confidence boost while using it.
Also, it is unisex. This means that you get the best of both worlds. The fragrance is manly enough to get you noticed but is also subtle in feminine nature. This means it does not become overwhelming easily. In fact, you can use it as office wear.
The confidence you gain from this scent is the fragrance's best benefit. Confident people are often seen as trustworthy people who can get the job done.
With this fragrance, you can feel and act more confident. This will make your peers admire you. In a work situation, confidence is the best way to get a promotion.
Who Needs It Most?
This fragrance is casual and easy to wear. Also, it has a classy scent that does not smell cheap. I think that anyone can probably pull it off.
However, I recommend it for youthful and energetic people. it is the perfect scent to go hang out with friends by the beach.
Keep Reading: 5 Best Tom Ford women Perfume
Summary of Amazon Customer Reviews
It receives a perfect score on Amazon. In fact, one user referred to the fragrance as the Fountain of Youth.
How to Use it properly?
You should use moderation when spraying it. Spraying too much may make it overwhelming. Also, I recommend saving this one for summer or a day at the beach.
Final Verdict
This scent delivers so much in a small bottle. I think that you should try and get a bottle as soon as possible.