One of the most iconic perfume designers in America is Francis Kurkdjian. In 2001, he was the winner of the Prix François Coty and is also an established businessman. He rose to fame for creating Le Male for Jean Paul Gaultier at only 26 years old. In 2009,
He went a step higher and co-founded fragrance house Maison Francis Kurkdjian with the French businessman Marc Chaya. In 2015, this house launched baccarat rouge 540.
Here is a quick but in-depth Maison Francis Kurkdjian baccarat rouge 540 review. I have used my personal experience with the product to gather a majority of the information. However, I have also used reviews to get other people's views.
Specifications
This scent was created by Francis Kurkdjian. He is a renowned perfumer and is responsible for iconic fragrances like Armani Mania (2002) by Giorgio Armani.
Being a unisex fragrance, the presentation has to attract both men and women. I would say they nailed it. The bottle and box feature a gold and red color scheme. This makes the fragrance look more classy and stylish. Also, gold is a color that attracts everyone.
The bottle is clear exposing the golden-colored juice. It has a rectangle shape with a square top. The top easily comes off but is durable enough to protect the sprayer. The sprayer is attractive and expels a nice amount of juice in a mist.
Keep Reading: What Does Baccarat Rouge 540 Smell Like To Others?
Pros
This product has a few benefits to it. First, it is unisex so couples can easily share it.
Next, it has a moderate projection. This makes it subtle and prevents it from getting overwhelming.
Also, it has impressive longevity of up to 11 hours. This together with its subtle nature can easily make it pass for office wear. Finally, it is made from high-quality materials. Consequently, it is safe for use on skin or clothes.
Cons
The only negative side to this fragrance is that you have to take extra care when ordering it online. This fragrance house has produced a few flankers for this product. Consequently, you may easily order the wrong one if you are not careful.
Keep Reading: Baccarat Rouge 540 Where to Buy Guide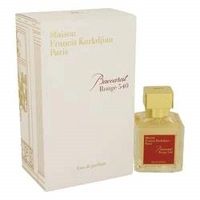 So how does it smell?
This scent opens up sweet with a floral top note. This is the alluring part of the smell. However, the smell is prevented from becoming too feminine by the middle and base notes.
The base notes are earthy and provide a manly mix that gives the fragrance its masculine qualities. Finally, the middle note is a bit of both and offers the perfect transition from sweet to earthy notes.
In general, the scent features a harmonious blend of floral and oriental notes. This is a beautiful combination that is reminiscent of walking through a flower garden by the woods.
Benefits
Being a unisex perfume, this fragrance gets the best of both worlds. Consequently, it is strong enough to get you noticed but subtle enough to prevent it from becoming overwhelming.
It is an awesome scent that can easily have you turning heads wherever you go. Also, it makes you feel and look a little more attractive. This has a good effect on one's confidence and will have you feeling like a new person.
In today's world, you need confidence to succeed. Confident people can easily be distinguished from their peers. They are natural leaders that everyone respects and wishes to emulate.
Using this fragrance can cause a huge boost in your confidence. Consequently, you will find yourself being respected and admired more.
Honestly, it is an awesome feeling that you have to experience in your lifetime.
Who Needs It Most?
As a unisex scent, this fragrance is versatile. It is one of those scents that anyone can easily pull off. I personally believe that anyone can wear this scent. It is subtle enough to even wear to the office.
Keep Reading: Look at Baccarat Rouge 540 vs Aventus
Summary of Amazon Customer Reviews
This product performs great on Amazon with a rating of 4 stars. Many people enjoy using it. For example, one man claims that his wife loved the scent so much that she bought some bottles for herself.
How to Use it properly?
This scent is easy to wear and can be worn on many occasions. However, one should use it in moderation reapplying only when it is necessary. I recommend saving it for summer but it is versatile for any other season.
Final Verdict
This company really produced a great product. I think any man or woman should invest in a bottle as soon as possible.