In 1978, Renzo Rosso founded an Italian clothing brand called Diesel. The company first made a name for itself thanks to its awesome denim collection. Since then, the company has made huge moves in the fashion and fragrance industry. In 2007, they launched the Diesel Fuel for Life Cologne.
This fragrance was a collaboration between perfumers Jacques Cavallier and Annick Menardo. I personally love this cologne as it is so enticing and masculine. I have made a quick Review.
Specifications of Diesel Fuel For Life
Just from its packaging, you know that you are dealing with something special. The box is very unique. It is a standard brown cardboard box.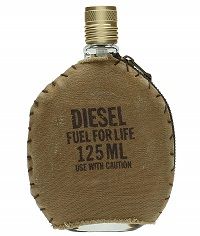 However, it has a tag on the front with the name of the fragrance and string encompassing the whole box. This makes you feel like you are getting a gift from Diesel. The bottle itself is also special.
It has a removable leather stitched pouch. Inside the pouch, there is a standard glass perfume bottle with the name embossed on it. The cap is easy to remove and exposes what I personally believe is one of the best sprayers in the market.
Features
Diesel Fuel for Life Cologne consists of:
This woody, aromatic cologne opens up with a spicy, rosy and bitter scent made up of: grapefruit and anise.
These notes are complemented by a fruity and lighter heart note, which consists of raspberry and lavender.
As the fragrance builds towards the finish, a base note consisting of dry wood, heliotrope, and vetiver. These give the fragrance an earthy finish.
Pros
Being energetic and active is a good sign to show people you are healthy or young. Therefore, everyone loves a youthful and energetic man. Diesel Fuel for Life Cologne keeps you smelling good as you go about your day's activities. Consequently, you will end up being that young and energetic man that everyone loves to be close too.
Cons
The downside to this product is that Diesel released many variations of it. Therefore, you have to be careful when making an order online. Otherwise, the only other bad side is you will have a hard time keeping the ladies of you.
So how does it smell?
When I first smelt the fragrance, I immediately got the top note of grapefruit. However, this grapefruit scent felt unique. Unlike the normal tart and bitter grapefruit scent, I got more of a citrusy grapefruit fragrance. This is a good thing as it brings out the uniqueness of this product.
In the mid, it delivers as a Fougère with a noticeable lavender scent. This fragrance closes with an aromatic and earthy scent that can last all day.
Benefits
You will get compliments while wearing this scent. The product is a harmonious blend between a sweet and masculine scent. I also noticed that ladies love this product and find it irresistible.
The product also has a moderate sillage and can last you all day. Also, the product is has a unique scent that not many fragrances can emulate. Consequently, you will always be the center of attention in a group of friends.
It is always fun getting noticed. Many of us do a lot of dumb things just to get the attention of a lady. With this fragrance by your side, you can rest assured that she will notice you.
Who Needs It Most?
It seems diesel was aiming for the youth and youthful at heart with this smell. The fragrance is characterized as an adventurous and youthful scent. Therefore, if you are young or old and full of energy then this is the best cologne for you.
Summary of Amazon Customer Reviews
This product has a rating of 4.5 stars on Amazon. Consequently, this is one of the highest-rated perfumes on Amazon. You only have to investigate some of the reviews to know how much people love this product. For instance, there is a user who claimed if it was not for this product then he would not have had the guts to meet his wife.
How to Use it properly?
This product has a good lifespan that could last you all day. Therefore, you only have to use it once every day. The product is mainly for day time use but can also be used at night when hitting the club with friends.
Final Verdict
Fuel for Life Cologne by Diesel is really an awesome product that I recommend you use. It will leave you feeling more confident and energetic throughout the day.