Epic Man is among the most popular perfumes that are produced and designed by Amouage. It is used by men, and it was released in 2009.
The fragrance is that of spicy-woody. Projection and longevity are good. This article will look at Amouage epic man review on my personal view and that of others who have used it.
Specifications
The epic man is a combination of creamy and peppery incense fragrance that has a leather base. Its top note can discourage at first, but later on, develops a nice fragrance after about 2-6 hours to that I am addicted to.
The fragrance is rather linear, and it's not extreme and becomes more soft and soft over the time .its creamier to the nose.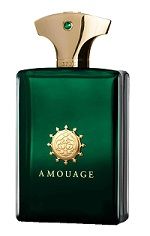 Whenever I use epic man, I get so many compliments. Since the composition has that nice fragrance that attracts ladies as it's so nice to the nose and not so complex nor irritating.
I love cardamom geranium, and spicy pepper incense that's mixed with sandalwood isn't so strong but has that neural feeling.
Keep Reading: Buying Guide Amouage Perfume Without Getting Scammed
 Features
On opening, I get a pleasant cardamom fragrance and heavy incense throughout the day. It also has a sharp fruity or floral scent. As time passes, cedar and leather fragrance comes into play.
It Keeps one woodier as it goes into the dry down, the incense persists again all throughout the day, there is another perfume of specialty around it, Amouage interlude man perfume spray.
Pros
It is breathtaking with a potent smoky fragrance, and this is how priests may smell. But due to the presence of incense fragrance, with only a little spray, I get that neutral scent. This doesn't irritate my work makes or my expecting wife, who gets irritated by certain fragrances. Epic man give me that joy and fulfillment and is every coin spend.
Cons
Despite having a beautiful fragrance, it has a very strong incense. However, some users think that the room is burning than that on the body. They ask how can you use something you like you are burning all along thus can't use it regularly.
Consider reading as you need from the following articles:
• Review of Luxury Fragrance Amouage Reflection
• Review of Arabian Fragrance Amouage Bracken
• Review of Amouage Jubilation
Benefits
Typically it has a masculine fragrance that of incense wood and leather. The high quality and unique incense become part of Amouage quality fragrances.
It makes it thrilling and intriguing as it brings out the much desired masculine fragrance. Thus an excellent composition on epic, giving it a particular genre that everyone may fall in love with it.
I usually get a very nice smoky- woody incense fragrance that's not so much conspicuous.
Who Needs It Most?
When I use Epic man, I get neutrality as it has a good ingredient that exhibits both western and eastern culture as it makes that beautiful scent.
Hence whoever would like this hybrid culture fragrance can try it out, and it can be used all the time due to its neutral fragrance.
Summary of Amazon Customer Reviews
The frankincense and cardamom at the opening blend so nicely with a geranium note, that's later followed by cedarwood later on. It may last for several days if it's not washed off. Anytime I use it; I get noticed in the office till I get out in the evening.
Epic Man is a four-star rating for me for the reason that it has an impeccable combination of notes. The opening is not bad, and it transforms into a cumin fragrance so quickly enough, making it so beautiful. Epic man means a lot to me with the neutral fragrance is so impressive and works for me all the time all year long.
How to Use it properly?
It is a wonderful perfume that gives classic, unique, luxurious masculine fragrance. As it starts with incense and pepper as its strongest fragrances while the woods and the smoky come into play. Due to its neutral note, my wife liked it as it has better performance on the skin. Its longevity is very ok thus can be favorable to all.
Final Verdict
I can acknowledge it as it's the best masculine perfume and has the best qualities that are neutral to all. It can be used all in the world as it gives a hybrid culture look that gives you the best fragrance that has always been your dream.