A Creed Aventus review must acknowledge its power and success profile. Bergamot, pink berries, musk, and ambergris are just a few of the notes of the legendary perfume. To this date, it is the best-selling fragrance of the brand under the signature of Olivier Creed and Erwin Creed.
Creed has been producing some of the most distinct perfumes in the world. Established in 1760 in England, the multinational Creed company is one of the select brands which makes in-house perfumes. This means their perfumes are harder to replicated and that they enjoy an elite niche status.
Among their famous releases, the Creed Aventus has been a top seller. Apart from being available online, the mesmerizing perfume can also be found and Creed's brick and mortar locations in Paris, London, New York, Beverly Hills, Vienna, and Milan.
Types of Creed Cologne
There are a few types of Creed Cologne men should know about, as they're enjoying impressive popularity. All of these products are independent and while they resemble the Creed perfume profile, they are products that can be used on their own, without a perfume.
Creed Aventus Cologne
Released in September 2010, the Aventus cologne is often confused with a simplified version of the Aventus perfume. But as seen above, the cologne is a solid individual formulation with hints of the Aventus perfume.
Creed Pure White Cologne
This classic cologne reminds of Victorian England. It has a strong citrus appeal. Its top notes include lemon, bergamot, and grapefruit. The middle masculine notes are formulated with galbanum, pear, and petite grain. The base notes add a strong classic appeal and include ambergris, white musk, and rice powder.
Creed Vetiver
The mesmerizing Vetiver Cologne impresses those seeking a timeless appeal. Made from vetiver roots and leaves, it already has been on the market for a long time, since 2004.
Creed Bois du Portugal
This traditional Cologne was researched and developed in 1987. It features timeless lavender, bergamot, sandalwood, and vetiver ambergris.
Creed Viking
It's one of the oldest fragrances in the world that has been around for over 250 years. It smells so good.
Consider reading the following articles as you need: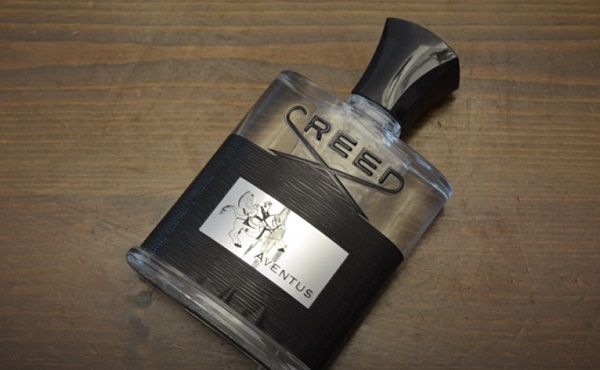 Creed Aventus reviews – how to rate the perfume
There is an aura of mystery and elegance surrounding Creed Aventus. Part of this is based on its unique fragrance and another part is based on the story behind the perfume. Both men and women enjoy the final results and in some cases, the same perfume makes its way around family members as it has an appeal for both sexes.
Creed Aventus cologne for Men
The Aventus markets itself as a perfume for the driven individual. There certainly is a reference to an Emperor, a strong individual, and a driven person who doesn't take no for an answer on any occasion. Immediately, our minds go to Napoleon Bonaparte and his role in history. While small in stature, the leader had big ambitions and a drive for success which marked history.
The same can be said about the Creed Aventus and what Olivier Creed and his son Erwin did for the history of fragrances. Interestingly, Ventus has a Proto-Italic Latin route, which is roughly translated as the wind. So is there a contradiction in the statements of the perfume?
Certainly not, as these two main descriptions by history and name are exactly what the user experience with the perfume. It is strong in the first minutes after application and complex beyond that.
How does creed Aventus smell?
Aventus combines some of the most classic smells with sweet fruity notes, creating a timeless mix. Its balanced formula blends curious and intense sequences of extraordinary changes.
Wearing Aventus Creed takes us to the seashore just before the start of a warm night, in a banquet where chefs are roasting first choice meat and serving polished cocktails and piña coladas in a well-kept garden of a VIP mansion.
There are a few ingredients that are mentioned in the perfume. They are recognized by top notes, middles notes, and base notes.
Creed perfume smell like:
Benefits
These are the official ingredients. But the way they are added to the formula is not straightforward. For example, the pineapple is roasted and mixed with smoke and vanilla, it creates a more complex note for men to enjoy.
Soon after its application, the perfume offers a fruity immersive profile. Strongly dominated by citrus and the sweetness of the pineapple, this scent is backed by a smokiness coming from birch. This masculine touch is pleasant and welcomed in this formula more than many would expect.
As the perfumed dries on the skin, its scents remain linear and they make way for the base notes. Men enjoy the oakmoss base notes as they emerge together with the sweet pineapple notes.
At this time, hints of vanilla should balance the sweetness of the fragrance. Those leaving Creed Aventus reviews show this fragrance is constant and it lasts for hours and hours without major changes.
About half an hour after its application, the perfume has settled and its numerous natural ingredients are now in full control of the scent. The venti windy profile is what may be discerned, although the scent is deeply rooted in musk and oakmoss. Some small variations may be found here. They're mainly attributed to the batches in which the perfume is produced.
Nobody knows exactly how many bottles of Aventus are made at a time. But a rough estimate shows these batches are smaller than with some other more affordable mass-market perfumes. Since many of its ingredients are also natural, they can vary according to the region of the world they're harvested from, weather, and the time of harvest.
There's only one Creed Aventus. Its unique fragrances largely remain unchanged. While it might be removed from the market at some point as Creed has many with hundreds of fragrances, it remains a strong seller. For example, it can be found in a 75ml creed aventus eau de parfum spray men. It may also be found in a 120ml spray version. Since there's only one, its benefits are the same.
By choosing to buy Aventus, you commit yourself to give your best anytime you wear it. Everything, from the high-price to its performance, will remind you and everyone around you that you want them to remember that moment.
There is an element of uniqueness about Creed Avenue which can't be matched. It's hard to match from this perspective even by respectable alternatives such as the Mont Blanc Explorer. Here are its keys benefits.
Longevity
The perfume wears for a long period. It will last the entire day which speaks a lot about its quality. Even with batch variations, Aventus still lasts a long time. This element makes its purchasers feel like they're getting value for money.
Projection
Wearers can expect a widespread projection for a minimum of two to three hours. Usually, anyone can spot Aventus at arm's length. In ventilated rooms, the fragrance will subtly double that length. The scent bubble will start shrinking around the fourth to the fifth hour.
Sillage
Creed Aventus is a head-turning scent. It is very common to walk into a crowd and see other people noticing the scented trail of Aventus by looking over your shoulder. The performing trail is a sign of the superior quality of the fixatives used in the blend. Sillage starts at 5 feet or 1,50 meters.
Uniqueness
Not everybody likes the prices of the Creed Aventus. One of the advantages of these products is that their higher price tag makes them unique. Alongside other Creed perfumes, it is an element of luxury that is perceived as a luxurious perfume.
What does the user say about this product?
Users are generally satisfied with the perfume. Both men and women are happy with the fragrance. One of the first signs of a successful purchase comes with unsolicited compliments which are a staple of the Creed Aventus. Without a doubt, it is made for some of those who like a luxurious fragrance which immediately stands out.
The smoky fragrance and the fresh pineapple notes are instantly recognized by most wearers. It is what can easily be distinguished as vanilla is only present in a small amount. Those who like the combination of sweet fruity fragrances and the earthy musk tones generally appreciate it the most.
How to Use it properly?
In theory, Creed Aventus is applied with a single spray as it's a long-lasting perfume. But a quick scan of what its fans say finds that the average number of sprays is 3 on different types of the body. 2 sprays go on each side of the neck and one on the chest.
Others also consider spraying on the arms and the shoulders. Spraying it all over the body is rare. However, since it has a strong pineapple kick, the Aventus may still be applied scarcely with 2 sprays.
It is possible to maximize the performance of Aventus by using a portable and refillable perfume atomizer. The original atomizer of the Creed bottle sprays a generous amount of product. A smaller atomizer is best for specific events for discreet applications when needed.
This could be an ideal solution for anyone who wants to wear Aventus for his significant other. Moreover, by applying the fragrance at the right time, it will double the effect of whatever surprise awaits ahead. Few milliliters will provide plenty for more than a day.
Consider reading the following articles, depending on your needs: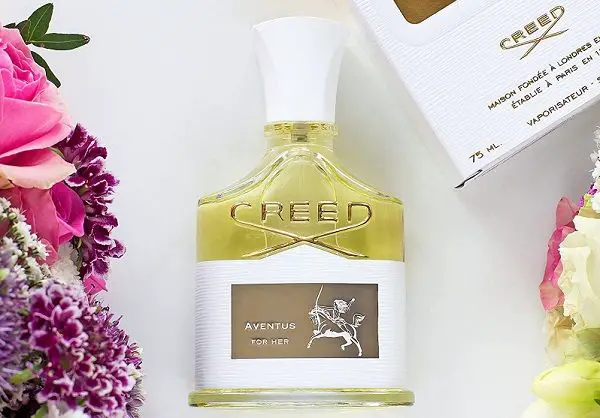 Creed Aventus for Women
Creed Aventus is unisex. It is used by both men and women successfully. However, some women like better Creed Aventus Eau de Parfum Millesime Spray for Her at 2.5 ounces or 75ml although other packing options may still be obtainable.
On the official site, Creed Aventus for her is available in 1000ml, 500ml, 250ml, 40ml, and 30ml. Apart from its packaging, the perfume still has an impressive history, just as the version for men.
Aventus for Her marks the irresistible female counterpart of a legendary conqueror who loves to command. It takes inspiration from the most powerful women in history, such as visionary artists and writers. It announces today's strong and modern woman.
This creation takes you back to the wild. It is reminiscent of an Amazon warrior armed with a bow, firmly on the saddle of her steed spurred on at a gallop, as she launches towards her goal. Yet, she is noble and charming.
How does Creed Aventus smell?
Made with an imperial inspiration for queens, and heads of state, the perfume has distinct notes which makes it appealing to women.
The first spray is like sipping champagne at a table set with a floral centerpiece. As the waiter proudly brings the dishes and removes the lid revealing spicy foods, someone pushes the dessert trolley with the wedding cake towards the center of the room. Wearing Aventus For Her is like being in such a valuable moment.
The top notes are dominated by pink berries, Egyptian green apple, Indonesian patchouli, and Italian bergamot. Middle notes are dominated by both Bulgarian, Turkish roses, and Indian sandalwood, styrax, and musk. Base notes complete the fragrance profile with sweet peach, cassis, lilac, ylang-ylang, and amber.
Benefits
Most women find it interesting that this version of the Aventus is particularly less appealing than his' version. Furthermore, it represents an option mainly for the hot summer months.
Not overly feminine
Doesn't include the sweet pineapple notes which some wearers don't like
Uniqueness
The mix of sweet and spicy notes generates a contrast that it is not entirely feminine, yet it is classy. Like a contemporary Amazon warrior, the woman who chooses Aventus for Her dares to give voice to her desires and wants to fulfill them with determination, never suppressing her romantic and sensitive soul.
Men are attracted to her charm, but she chooses them. Free and vibrant with life, she looks ahead. And the horizon unfolds before her eyes, showing that anything can become possible. This scent amplifies the character of the woman. It does not want to smudge any rough edge as much as it wants to glorify them.
What does the user say about this product?
The longevity of the perfume is something most women note and praise. Some say they can smell the perfume on the skin even the next morning. Other women described it as the best they've tried. However, its longevity is subjective. Looking at any Creed Aventus review written by women unveils a 6-10 hour longevity.
How to Use it properly?
Unlike with the men's version, women report they're not using more than 2 sprays per application. This is why it's worth using for the long-term as even if it's expensive, it's still applied in small quantities. Women also note its fragrance is different from the one made for men. Instead of being of a similar profile, it is a perfume on its own.
Creed Aventus similar fragrances low Cost
As with any Creed Aventus perfume review, consumers should always think about the many options the perfume has and why they are not as good as the genuine. Compiling a list of alternatives is an ongoing job as there are new Aventus-inspired perfumes released every month. Here are a few of them.
Mancera Cedrat Boise
This perfume is one of the more expensive alternatives and its sold in 60ml bottles. It also opens in citrus fruit notes and as the Aventus, it starts to become woody after about half an hour as it dries down. But unlike the real Creed Aventus, it lacks the refinement of the perfume. Being of lesser quality, it also lasts considerably less. Its users even report the perfume is completely gone in about 2 hours after application.
Zara Vibrant Leather Edp
This perfume is also of the woody category. It has notes of bergamot, leather, and cedar. However, its cedar notes are not as easy to distinguish as users' reports. Especially in hot climates or when worn during the summer months, the cedar notes should settle within 30 minutes of application, which is rarely the case.
This is why this perfume only mildly resembles the Creed Aventus when first applied, due to its citric notes of bergamot and ginger. But the perfume also lacks Aventus' distinguishable sweet pineapple and smoky notes.
Armaf CDNIM
This is another Aventus-inspired perfume which tries to replicate the intricate notes of the Creed perfume, even within its first minutes of application. As many of these similar perfumes, it also opens with a strong citrus note. However, men have noted that the citrus is not as refined as in the Aventus and it may even smell a bit off at first.
The perfume doesn't project after about 2 hours and it settles close to the skin faster than the real Creed Aventus. This is why it lacks the refinement and quality, even if it has similar notes to the Aventus. There is a smoky-sweet aroma that settles on the skin after the perfume dries. However, it's far from the complexity of the Aventus and it might just be one of the cheaper games on the market which also has major differences according to the batch number.
Rasasi Zebra EDP
This Aventus clone is trying hard to push for the pineapple notes. As men recall, it is one of the better knockoffs of the Creed Aventus. Beginners in the perfume world find it very similar to the Aventus. But the more they get accustomed to differentiate between ingredients, they find out something is missing from the perfume to make it as good as the Aventus.
Freesia and jasmine middle notes make it a bit different from the Aventus. Even if it's base notes include white musk and cedarwood, the perfume is still only similar to the Aventus when first applied and it begins to quickly lose its shine just a few hours after application.
Al HaramainL'Aventure
This perfume is similar to the Aventus but as many knockoffs, it has real problems in replicating the pineapple aroma. Instead, it overpowers the scent with bergamot notes. As it begins to dry, it tries to replicate the woody and smoky aroma of the Aventus.
It fails to do so properly as the smoky aroma is of poor quality and even compared to an ashtray smell by too many Creed Aventus reviews. Furthermore, the perfume still lacks the sweet notes even as it begins to dry. The only area where it is similar to the Aventus is in the projection's durability. When applied in 3 or more sprays, its pepper notes also become a bit overpowering.
Lattafa Al Dur Al Makhnoon
This perfume tries to replicate Aventu's pineapple notes with added citrus and ginger top notes. Jasmine, leather, and green apple are its distinguishable middle notes. Oakmoss, patchouli, and amber are its base notes.
The perfume is similar to the Aventus and even its sweet pineapple notes are easily distinguishable. Its main problem is that it smells like a cheaper Creed Aventus. This is the main reason the perfumer remains just a cheap alternative. Those who've tried the Aventus before are not easily confused between the two as the Lattafa perfume lacks that premium refinement.
Glenn Perri Unpredictable Adventure
This cologne is often associated with the Creed Aventus. But it has a poor formulation which means its projection stops faster than with many other Aventus-inspired perfumes. Its overall scent has often been compared to an older gentleman's cologne.
There are two main reasons for its profile. Simply put, there's too much alcohol in it. This is why all other aromas are overpowered and why its sold at such a low price. The second reason why it's associated with a cheap perfume is that once it settles, it has a few other ingredients which overpower its sweetness. The projection period is short as well.
Armaf I Divo For Men
This perfume opens up with blackcurrant, cassis and overpowering citrus notes. Rose, pepper, and musk are mildly distinguishable as it starts to dry on the skin or clothes. Jasmin, patchouli, and amber are also recognized in the perfume. Vanilla is added to replicate Aventus' sweetness.
There are a few areas in which the perfume falls short. One of them is the refinement of the aroma, which is very dominated by the citrus notes. Another area where it falls short is the projection, which stops after 2 hours. The perfume persists on the skin for up to 6 hours, but without the projection of the Aventus.
Montblanc Legend
This perfume was launched back in 2011 and made by Olivier Pescheux. It derives its sweet notes from lavender, pineapple and a red apple. Bergamot, dried fruits, tonka, and sandalwood complete its mid notes. Geranium, coumarin, rose, and oakmoss makes up its base notes.
The perfume is interpreted as masculine. But it performs better in the dry summer months or during the cold winter months than in spring or falls where the extra humidity makes it alcohol-overpowered and it limits its projection.
Jaguar Vision For Men
Among the reviews of the Creed Aventus, Jaguar Vision For Men is also mentioned at times. It has some resemblance to the famous Aventus perfume mainly due to its sweet pineapple notes. But the perfume lacks a bit more clarity in its notes which has been attributed to the overpowering alcohol content. The perfume is also not meant for the young wearer as it has a classier profile.
Consider reading the following articles, depending on your needs: 
Creed Aventus cologne ingredients
A true perfume maker never reveals all ingredients as the formulas can't be exactly replicated. The Aventus cologne has a few ingredients which are public and which the Creed family is happy to share.
There are other ingredients that the cologne's fans can distinguish as well. Pink pepper spices up the top notes. Birch is also present in the formula while the sweet pineapple is removed from the Aventus perfume.
These ingredients represent a fresher and more versatile Aventus which works specifically well on the warmer days. Other differences that the cologne's fans signal are the lack of smokiness, which is so characteristic to the Creed Aventus. However, it also has similarities to the perfume. Longevity is among these similarities. Up to 3 sprays are sufficient to still smell the cologne after 6-8 hours.
frequently asked questions
What is Creed Aventus cologne?
The newly-released Creed Aventus cologne comes in 50ml and 100ml versions. It offers a fresh experience on its own and it has different ingredients compared to the Creed Aventus perfume. The ingredients start with ginger, mandarin, and Baierose tope notes. Patchouli, Indian sandalwood, and vetiver make up its mid notes. The base notes include styrax, birch, musk, and tonka bean.
The Creed Aventus cologne is not a simplified version of the Aventus perfume. Launched nearly 10 years later behind the perfume and her'sAventus, the cologne has some of the best ingredients sourced naturally.
Erwin, the son of Oliver Creed even stated that the cologne version needs to remind of the Aventus without actually being the Aventus perfume. With a woody fresh profile, it is more modern and a product on its own.
Who made Creed Aventus cologne?
The Creed Aventus cologne has been made by the same famous father and son team. Both Olivier and Erwin Creed worked over a year to develop the formula of the cologne. The original Aventus was launched in 2010. The Aventus for women has been launched in 2016. Then, the Aventus cologne came to create a new direction for the Creed family of perfumers.
The ruling concentration of infused oils and the prime ingredients have been selected together by the father and son duo. It's expected for them to continue working on new products together, although without the pressure of releasing new perfumes as with other brands.
How is Creed Aventus made?
Most Creed perfumes are made in-house. There are no borrowed formulas the Creed family is using. They've been known to spend years in the development of new formulas and they have a strong interest in natural ingredients.
The Creed Aventus is made in small batches. Some batches are considered fruity while others are considered smoky, according to variations of the natural ingredients. Leading ingredients immediately distinguishable include pineapple, bergamot, vanilla, musk, blackcurrant, ambergris, and oakmoss.
Often tied to Napoleon Bonaparte, the story behind the perfume is still divisive. Some consider it truthful, daring and edgy, just as Napoleon was. Others consider it fruity for the story which is still a matter of subjective interpretation.
In Esperanto, Aventus means victory. This is why the story of the perfume is often associated with career-driven men. But regardless of the exact etymology of its name, the Aventus makes its mark both as a fragrance and as a perfume profile immediately distinguishable.
Is Creed Aventus unisex?
The Creed Aventus is a unisex perfume. It is often preferred by men but there are plenty of women who simply cannot find a better replacement and wear it as well. While the Aventus for Her has been received well, it has different ingredients and only partly reminiscent of the Creed Aventus.
Women may prefer the unisex Creed Aventus for various reasons. But looking at their feedback it's clear the type of woman going for the unisex perfume is a person not in love with the sweet or flowery fragrances often marketed to women. While it's more difficult for men to wear women's perfume, women don't mind the musk notes of the Aventus.
The dry woody notes also favor wearing the perfume in the spring and autumn. Air humidity influences how these notes smell and this is why it's perfect for both sexes. Men can wear the perfume to work with casual or office outfits and women can rely on the Aventus for a fresh vibe as well.
When and how to wear Creed Aventus?
In theory, the perfume is made for any outfit. However, there are a few men who abide by its casual use. While its price keeps it from being worn every day, it is the type of perfume that can be worn to work. It may be too strong for those looking to attend a gala or an opera event as it persists for hours. It may not be the perfume to wear at the pool for this reason as well.
If a certain outfit could be compared to the Creed Aventus, it would be a pair of jeans and a t-shirt. Some may even consider a casual shirt with the jeans where the perfume offers than unexpected fragrance which impresses those around even more.
A few sprays of Aventus are sufficient in the morning. Some men note that the perfume persists even after taking a shower. This is why it doesn't need to be applied every day but rather every other day as long as it's within the 2-3 sprays limit.
Spraying the perfume near the pulse points such as the neck and the wrists will make it radiate even more. These areas are certainly not requiring a daily application. Another option is spraying it behind the ear or behind the neck. But most men mention applying this premium perfume on the chest as well.
How long does Creed Aventus last?
There are a few methods that allow the Creed Aventus to last even longer than most expect, for an entire day. Wearers should know that the skin needs to be properly moisturized for this to happen. Taking a shower and even applying a moisturizer and allowing it to be absorbed into the skin can be a good method of ensuring the skin is not dry when the Creed Aventus is applied.
Another method of increasing the long-lasting smell's duration is by using products that are similar in scent. A body wash that comes with citrus and musk notes can be a good combination. A hydrating cream with the same profile can further improve its longevity.
Most men can hope for the perfume to last up to 12 hours. But most men rarely apply the perfume on perfectly-hydrated skin. This is why a more realistic expectation allows the scent to be fully enjoyed anywhere between 6 to 8 hours.
Why is Creed Aventus cologne so expensive?
Historically associated with prestige and the royal British family, the Creed Aventus cologne's legacy is seen in its prices. While there are a few doubts about some of these historical claims, it's clear that the Aventus made its mark in the scents' world. With added natural ingredients, the cost of production might also be higher. Years of research and premium packaging also makes these colognes more expensive than most expect.
Exclusivity also has a strong influence on the final cost of the Aventus cologne. Being made in smaller batches and being enjoyed by royals, politicians and movie stars makes its mark on prices. Proper packing is also needed for expensive ingredients. While they are aesthetically-pleasing, the role of the Creed Aventus bottles is to also protect the ingredients from direct sunlight and heat.
Is Creed Aventus worth it?
Creed Aventus is certainly worth investing in. Perfumes are most often a question of personal choice, a subjective matter. But most of those who've tried the Aventus say it's truly worth it. Many products try and mimic the Aventus for a lower price and with varying degrees of success. A simple search finds products marketing themselves to be "as good as Creed Aventus".
But these products aren't as good. They are far from the unique Aventus formula. The problem of exclusivity is also considered the worth question. If a product is more expensive, it is also more exclusive. This is why the Creed Aventus is worth it for those who want something different. It is the perfume that gets all the discussions about pricing going and this means it's popular even with those who've not yet used it.
Why is Creed Aventus so popular?
The scent of the Creed Aventus is still the main reason why it's one of the most popular products on the market. Often seen as masculine, it is described as fresh. With its musky, woody and sweet notes, it has a certain appeal that is hard to match.
Influencers and celebrities also made their mark on the popularity of the Aventus. From the British royals to those who are seen in movies and the most exclusive holiday destinations in the world, the Aventus is seen among those enjoying a luxurious lifestyle.
Another aspect to consider with popularity are the product's reviews. Almost all YouTubers and forums attest to the quality and scent of the perfumer. When those who enjoy an influencer status speak so favorably about the product, it only becomes a matter of raising sufficient money before purchasing the product. Even if the perfume is not made to please everyone, even those using alternatives recognize its unique qualities.
Why is Creed Aventus so good?
The mesmerizing perfume is what makes Creed Aventus so good. The combination of pineapple and blackcurrant, as opposed to the smoke earthy profile, makes it very appealing. This combination is immediately recognizable.
Furthermore, the Creed Aventus knockoffs are increasing in popularity. While they're not as good as the real perfume, they try to replicate a signature scent that so many men enjoy. This means the Aventus is as good if not better than expected.
Where to buy Creed Aventus cologne?
Creed Aventus cologne is sold by online and physical stores. It's discount rates may vary according to the batch number. For the biggest savings, Creed Aventus cologne fans look online where it is more affordable. Online stores don't have rent overheads and it can be a reason why the cologne can be bought at a better price when shopping from home.
How to spot fake Creed Aventus cologne?
It is difficult to spot a fake Creed Aventus cologne, but it is not impossible. One way of doing this is by carefully studying the product's packaging. You can quickly identify a fake Aventus cologne from the spray cap. When it does not close perfectly with a magnetic feel, it means it is fake. Also, if there is no white line inside the cap, it is fake.
Cellphone wraps are also used in some fake Aventus packaging. Apart from these indicators, how the labels are added to the bottle can also be an indicator. Air bubbles underneath the logo label can be an indicator of a rushed manufacturing process, specific to counterfeit products.
But in many cases, real Aventus bottles are used refilled and sold as the real cologne. By appearance alone, not many can discern the difference between fakes and the authentic Aventus. The differences in batches and how they smell play their role as well. This is why it might be worth spending more and buying Creed Aventus cologne from a reputable seller.
Final considerations
The Creed Aventus is a perfume that has a history, something which cannot be replicated even by the best perfume manufacturers. Up to 1970, the perfume house worked with royal houses in Europe and it wasn't manufacturing mass-market products. Since then, the brand made several popular perfumes that were available to the public.
Among them, the Creed Aventus made a powerful impact. The unlikely masculine perfume with sweet pineapple notes proved even sweet aromas can't be overlooked in these types of scents. As the testament of its legacy, the perfume is rarely sold with considerable discounts as it maintains its high market value.