Two images come to mind when describing what does mens Versace dreamer smell like pruning lavender and opening a new pack of cigarettes.
The Dreamer plays with an accord of two conflicting notes. A sharp lavender smell fills the air from the start. The opening vaguely reminds the strength of Davidoff's Cool Water and the lavender of Jean Paul Gaultier's Le Male. However, it is a synthetic aroma reminiscent of the most pungent part of lavender oil.
After a few minutes, the heart notes begin to sweeten the fragrance. But not immediately. It takes time, at least an hour. The second main note, tobacco, begins to show itself. It is not a sweet tobacco leaf, as we can find in Tom Ford's Tobacco Vanille or Parfums de Marly's Herod. This hint of tobacco is dry tobacco, or of leaves in the drying phase. If you smoke, you will recognize the smell of cigarettes in a new pack after removing the outer plastic and inner lining.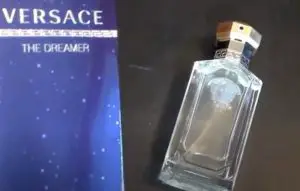 In the end, it all comes together. After the contrast fades away, the presence of the tonka beans adds a sweet scent to the already complex fragrance. At this point, it is more like Le Male. The many nuances of this eau de toilette make it challenging to establish a single picture, to sum up, what does mens Versace dreamer smell like.
We can connect the two images in one scene. Imagine a cold autumn day. During the hottest hours, you walk past a garden where the gardener has just pruned lavender bushes and thrown them into a bucket full of white spirits. The smell only affects you for the time you pass in front of the house.
Immediately afterward, you stop on the sidewalk and open a pack of cigarettes with an automatic gesture. You inhale the smell of cigarettes to reset your nose, as you gently take one out with your mouth. You turn towards the street, glancing in the distance, waiting, dreaming of a better future for that day.