In 1991, Tony Margolis, Bob Emfield, and Lucio Dalla Gasperina founded Tommy Bahama. It is a lifestyle brand that initially offered menswear collection. They made a name for themselves offering tailored pants and silk shirts that were influenced by tropical islands.
Today, they are key players in the world of fashion offering iconic beach gear, clothes, and fragrances. In 2016, they launched Tommy Bahama maritime deep blue cologne.
Tommy Bahama cologne review
The man behind this scent is the talented perfumer Frank Voelkl. He is the man behind some iconic fragrances such as I Love Dior and Reaction for men. The fragrance is a presentation that features a nautical theme.
The box is ocean blue with a rope design that encompasses the whole box. The bottle is a real work of art. The cap is unique and is reminiscent of a ship's deck. It even has a nautical knot that uses a real rope. The bottle features an ocean blue color scheme.
This is a perfect fit for the theme they were going for. Finally, the sprayer is well designed. It sprays a perfect mist cloud of cologne.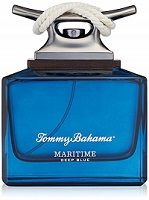 So how does it smell? As soon as I sprayed it I noticed the citrusy top notes made up of a mix of Rosemary, Cardamom, Juniper, and Bergamot. This is a refreshing opening and a perfect fit for their oceanic theme.
This smell is supported by a cool heart note that consists of Freesia, Orris, Geranium, and Water lily. This gives the scent a cool feel that is reminiscent of an ocean breeze. Finally, the base notes are Moss, Patchouli, Cedarwood, and Musk. These notes provide the masculine foundation of the fragrance. In summary, the fragrance is masculine and refreshing.
This fragrance is really something special. I live close to the ocean so anything that reminds me of the ocean is a good thing. The smell is really relaxing in a way that you have to experience to really know.
Also, it makes you feel and look more attractive. This will be evident when you notice the amount of attention you will be receiving. Ladies love the scent and you are bound to receive tons of compliments.
So who needs it the most? This is a playful fragrance that has some alluring elements. Therefore, I recommend it for young and energetic men mainly 20 -35 years old. These are very active people. During these activities, they may form body odor that can ruin their day. this fragrance will ensure that they remain smelling fresh all day.
Keep Reading: You Need To Understand How To Choose The Perfect Cologne 
This is a great fragrance to wear if you are new to fragrances. It is easy to wear. It is more casual wear so it is versatile in its application. It is not that overwhelming.
Therefore, it can easily be used as office wear. Moreover, it has moderate longevity of about 6-8 hours that is perfect for a workday. It also has an alluring and seductive scent that ladies love. When you wear this cologne you are bound to receive lots of compliments. Lastly, it is a safe product that even people with sensitive skin can wear.
You have to be cautious when buying this product. There have been some reports of knockoffs and colognes. These knockoffs are dangerous as they are made from harmful chemicals. However, one can easily avoid being a victim by buying goods from trusted retailers such as Amazon.
This product has a rating of 4 stars on Amazon. This means that most people are happy with it. For instance, one happy user explained how the product has completely changed his life. He says that thanks to this scent he has been able to feel happier about himself.
This product is not hard to use. It is a casual scent that can easily fit in most occasions. In fact, it may even be used in the office.  You only have to use a little as too much could make the top notes overwhelming. I also recommend saving this fragrance for summer use. This is due to its aquatic and citrusy character
Final verdict
I really love this fragrance. It is casual and very easy to wear. I really recommend it to people who are new to colognes.