In 2001, perfume brand Marc Jacobs started offering fragrances for both men and women. They initially started operations working in conjunction with renowned perfumer Coty. Consequently, this relatively new brand has produced some iconic fragrances.
In 2010, they released Bang. This captivating fragrance was created by perfumer Ann Gottlieb. Ann is responsible for some awesome fragrances such as Contradiction by Calvin Klein and Fusion by Faberge. I have made a review.
Specifications of Marc Jacobs Bang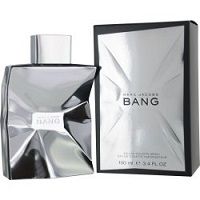 Just from looking at the packaging, you can tell that you are dealing with something unique. In fact, this fragrance is the 2011 winner of Fifi Awards for men's luxe best packaging. The bottle has a curved shape that features a designed impact, hence the name bang.
Other features of the bottle include a metal with a mirror reflection on the front and back. Also, the sides of the bottle expose the black glass inner bottle. It has a decent atomizer. The sprayer a healthy helping of the juice and is durable. Even the box of the product is nice. It is a standard black cardboard box with a metallic finish.
Keep Reading: How To Choose Your Best Cologne
Features
This masculine fragrance features
Top notes consisting of Pink, Black, and white peppercorns. This gives the fragrance a spicy and alluring scent
Meanwhile, the heart is made up of a combination of Primal masculine woods notes perfume. This offers the perfect transition.
Finally, the base notes finish the fragrance with a seductive aroma. It consists of elemi resin, patchouli, benzoin, vetiver, and oakmoss
Pros
It is always a joy to become respected and admired by your friends. Also, having a few women noticing and complimenting you is always a good feeling.
Consequently, you will gain self-confidence by wearing this fragrance. The product is safe and can even be used by people with sensitive skin.
Cons
There is one flaw to this product. The curved nature of the bottle makes it prone to falling over. However, this fault can be easily handled with a bit of caution while using the cologne.
So how does it smell?
If I were to describe this fragrance in one word it would be spicy. Right from the top note you are welcomed with an alluring aroma of peppers.
This makes it hard for anyone not to notice when you enter a room. When the spicy top note dies down a woody heart is exposed. This offers the perfect transition from a spicy scent to an earthly one. Finally, this fragrance finished with a long-lasting and seductive base.
Benefits
This spicy fragrance exudes a bold and seductive personality. Also, it will make you look and feel more attractive. This will act as an instant confidence boost.  Consequently, you will become irresistible to the ladies.
In this competitive world, you will often want to get noticed. This cologne facilitates this by turn you into the center of attraction. You will find it easier to gain the respect and admiration of your peers. Consequently, in a competitive scenario, you will often be considered first.
Who Needs It Most?
Bang cologne is advertised as a daring man's cologne. It is for those bold men who are not afraid to take charge. It is also alluring and seductive. Therefore, most women will not be able to resist you.
Summary of Amazon Customer Reviews
This product rates highly on Amazon with 4 out of 5 stars. This means the product is almost perfect and most people have enjoyed using it. For instance, one gentleman claimed that it is the best fragrance he has ever bought. He added by saying that he is constantly being complemented by women.
How to Use it properly?
This fragrance has a strong sillage and wake. It also has moderate longevity of about 8 hours. I would advise using it at moderation as overdoing it can get overwhelming fast. It is a perfect daytime fragrance for men of all ages.
Final Verdict
Bang by Marc Jacobs really delivers as bold and seductive cologne. It is easy to see why many people love this new brand.