The house of Guess needs no introduction to perfume experts and enthusiasts. They are a large brand that has produced some iconic fragrances that can be found all over the world. On August 11, 2011, the house of Guess launched its seductive collection.
Guess seductive cologne was the first men's fragrance in their Seductive collection. Here is a quick review that I have made.
Specifications of Guess Seductive Fragrance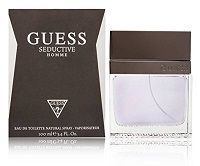 Guess sedative maintains a signature clear rectangle bottle with a blacktop. Like most perfumes, the fragrance has a standard glass bottle. There is nothing too special about the glasses design.
However, it was a good option using clear glass as it makes it easier to see how much cologne is left. Also, Guess has one of the best atomizers on the market. It is durable enough to be used multiple times without breaking.
Features
It consists of:
The top notes comprise pink pepper, Cardamom milk, and Mandarin pulp. The mandarin orange gives a fresh and juicy citrus aroma. On the other hand, the Cardamom and pink pepper give off a more upbeat spicy scent that is not too overwhelming.
Next, the heart notes kick in and comprise of vanilla orchid, Vetiver, and Violet leaves. Here the fragrance forms a seductive and harmonious blend that results in a sweet and spicy tingle.
Finally, the base notes comprise amber, musk, patchouli, and Violet leaves. In the earlier stages of this note, it forms a combination of some of the dying elements from the top and heart stages.
Pros
Body odor is a confidence killer among men. Women love confident men who are not afraid to go after what they like. This fragrance leaves you smelling good. Consequently, you will be transformed into a confident seduction-god who is simply irresistible to any woman.
Cons
There virtually no negative sides to using this product. The fragrance is made from safe ingredients that have been expertly tested and found to have no side effects. The only real bad side effect of using this product is that you will have too many women fighting over you. Then again, who does not like a little attention?
Keep Reading: You Need To Understand The Fragrance Wheel
So how does it smell?
This fragrance is designed for charming and seductive men. Therefore, it needs the perfect composition to make a good and long-lasting first impression. The house of Guess really did their research with this one. They ended up delivering a product that is so unique in many ways.
The top and heart notes deliver a noticeable yet subtle juicy and spicy scent. This ensures that you remain irresistible by making you smell good without overwhelming that special person next to you. The base note is musky and long-lasting.
Benefits
Guess performs great in awake and strength tests. Its projection, longevity, and sillage are perfect for seductive cologne. It has a moderate longevity with a lifespan of 6-8 hours.
Its projection and sillage are noticeable but not overwhelming. This makes the product perfect for getting up close and personal with the person you are seducing.
I personally feel that this product is perfect for a seductive and charming man. Unlike other fragrances, this one is very subtle and can easily match with your natural musk at its base note.
Every seductive man knows that women love a good fragrance. With this product by your side, you can remain totally confident in your seduction.
Who Needs It Most?
Generally, this fragrance was made to target magnetic, charming, charismatic and seductive men who are not afraid to get up close with that special someone. Therefore, Guess seduction is mainly used at night. It is suitable for use at all ages but mainly meant for people at their prime 25-35 years old.
Such individuals are looking for that special someone to spend the rest of their lives with. Also, it is mainly worn at night time. Whether you are going to a cocktail party or wild clubbing, Guess is the perfect fragrance for you.
Summary of Amazon Customer Reviews
Reviews are a great way to judge a new product. On Amazon, Guess seductive has so many positive reviews with an average of 4 stars. This means the product is awesome and people have really enjoyed using it. Moreover, some real-life accounts seem to suggest that the seductive element really works.
For instance, one wife claimed that she found this fragrance irresistible and made her husband seem more attractive. It is such reviews that give this fragrance such a high rating.
How to Use it properly?
Being seductive cologne, Guess is best used at night. It only needs to be used once as it is long-lasting. I recommend saving this cologne for winter but you may also use it when going out with friends.
Final Verdict
In summary, as the name suggests Guess Seductive Cologne really delivers as a seductive use. I really recommend adding it to your collection.