Few companies in the world have made a name for themselves like Mercedes Benz. It is a brand that is known all over the world. It was founded in 1926 by Karl Benz and Gottlieb Daimler.
The two men created Benz Patent-Motorwagen, which is regarded as the world's first gasoline-powered automobile. Today, the company is one of the leading producers of cars.
In fact, they were the biggest selling premium vehicle brand in 2018. They have also expanded the business to other sectors like Fragrances. In 2014, they produced the VIP Club – Black Leather.
Below is a detailed Mercedes Benz VIP club black leather review. Most of the information comes from my personal experience using it. However, I have also taken other people's input in the form of reviews.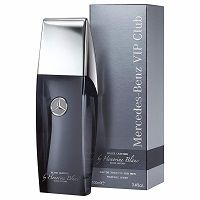 Specifications
The brain behind this masculine scent is Honorine Blanc. She is an established perfumer who has worked on some iconic fragrances like Calvin Klein's Calvin Klein Women. It is one of the 5 fragrances in the companies VIP Club collection. I really like the presentation.
The bottle has a curved shape that is reminiscent of one of their sleek cars. The bottle is tinted black while the top and iconic logos are silver. The top easily comes off to reveal the silver atomizer.
In my opinion, the atomizer is one of the best. It expels a healthy cloud of mist that easily covers your clothes and skin. the level of sophistication in this product is what we have all come to expect from this company.
Pros
This fragrance has a strong scent that many people love. The longevity is awesome and if it is used correctly it can last you a whole workday.
Also, it has moderate sillage and projection. This prevents it from becoming overwhelming in closed spaces. Consequently, it performs great as office wear.
Cons:
There are no side effects of using this product. This product is made from high-quality ingredients that are safe for use. In fact, it can even be used by people with sensitive skin.
Keep Reading: Tips for Using Men's Perfume Without Spray
So how does it smell?
The scent opens up with a citrusy top note. This gives it a crisp and fresh start. Next, the top notes die down to a more earthy and woody scent. This is thanks to the Frankincense and sage.
On the other hand, patchouli offers a fresh undertone that helps bring out the top note. 
Finally, the fragrance closes with a masculine, seductive, alluring base note. The amber and labdanum give it the warm and alluring side. The leather makes the smell manly and seductive.
Benefits
This scent is sophisticated and seductive. It can make a man feel and seem more attractive. For instance, when I wore it to work I felt like I was the center of attraction with my workmates constantly complimenting me. This was a lovely feeling that provided me with a great confidence boost.
Also, I felt as if I was distinguished for most of them claimed that I smelt unique. I am sure if you were to use this fragrance then you could receive the same benefits.
Mercedes-Benz is at the very pinnacle of luxury and sophistication. Therefore, wearing a fragrance from them will give you a lot of distinction from your peers.
Consequently, you are bound to be respected and admired more once people find out that you are using such a classy fragrance. Also, ladies love a man who can take care of them.
Who Needs It Most?
I recommend this scent for a man in the world of business. Such people are likely to gain the most from their classy and seductive properties. Having the distinction that the product brings can lead to overall success in a business career.
However, I also think that anyone can use it to add a touch of class to their personality.
Summary of Amazon Customer Reviews
The product has a near-perfect rating of 4.7 stars on Amazon. This means that most people have enjoyed using it. For instance, one customer claims that he initially got it as a gift when he bought a Mercedes and has been using it ever since.
How to Use it properly?
This is a strong scent so moderation should be used during application. Also, it should only be reapplied when needed.to gain the most sillage and projection, it should be applied to the body hotspots. I recommend this fragrance as a summer nighttime wear.
Final Verdict
It is easy to see why many people love this brand. This fragrance is one that I advise getting your hands on as soon as possible.