Abercrombie & Fitch (A&F) is an American fashion house that was founded in 1892 by David T. Abercrombie and Ezra Fitch.
Initially, they were an elite outfitter of sporting goods. They have since closed the sporting goods business and evolved into high-end clothing and fragrances. In 2002, they introduced Fierce cologne.
Here is a summarized Fierce cologne review that I have done from my personal experience using the product. I have also added some reviews and bonus tips in this article. I hope after reading the review you will know everything about this fragrance.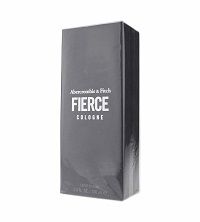 Specifications
This iconic fragrance was the work of two perfumers Christophe Laudamiel and Bruno Jovanovic. They bare both talented perfumers. They are the brains behind some nice fragrances like Ralph Lauren's Polo Blue and Avon's Crystal Aura.
Right from the presentation, you can tell that this fragrance is meant for seductive men. The clear glass bottle features a man's torso as the main logo.  The wordings are written in white.
It is a simple design that oozes with class and seduction. The box also has a sophisticated gray color scheme. The top easily clicks on and off. The atomizer is nice and expels a healthy cloud of juice. In general, I was very impressed with the presentation.
Features
Fragrance notes
Top Notes: fir, lemon, and orange
Heart Notes: Rosemary, jasmine, and lily-of-the-valley
Base Notes: musk, vetiver, and Brazilian rosewood
Pros
This fragrance is made from high-quality ingredients. This means it is safe for use on skin or clothes.
The projection of the scent is moderate. This makes it perfect as a seductive fragrance as it does not get overwhelming when you get too close to someone.
The longevity of up to 9 hours is great and can get you through any day or night situation. Also, the fragrance is easy to wear and can last you a long time.
Cons
There no demerits to using this product. However, you have to be careful when buying it online. There have been some websites that are suspected of selling knockoffs.
These are made from harmful ingredients that can have nasty side effects on your skin. you should only buy the product from trusted retailers like amazon
So how does it smell?
The fragrance opens with a fresh and citrusy top note. This note has a revitalizing feel that is calming at the same time.
Next, the sweet and floral heart notes offer a perfect transition from the top notes. These give the fragrance a softer and subtle side.
Lastly, the woodsy base note finishes off this masterpiece in a manly way. It is what is responsible for the alluring nature of the fragrance.
Benefits
This fragrance performs well as a seductive perfume. The scent is alluring and will get you feeling like a new man. It can make you feel and look more attractive.
This will give you an awesome confidence boost that will make you even more irresistible to women. This makes it an awesome wingman for a night out partying.
Being the center of attraction is quite a nice experience. You feel like people are looking at you with respect and admiration. This is an awesome feeling that you never knew you wanted to experience. It will leave you feeling confident and better about yourself.
Who Needs It Most?
I recommend this one for young energetic men. However, even those who are old but still youthful at heart can use it.
It is the perfect scent to wear for a night out with friends. The fragrance is seductive and you are sure to get some attention wearing it.
Summary of Amazon Customer Reviews
This product has a moderate rating of 3 stars on Amazon. However, there are some good reviews from people who give it 5 stars. For instance, one wife claims that it is the reason why she met her husband. She added that even after 10 years she still loves the smell.
How to Use it properly?
This fragrance is easy to wear and can fit into a majority of situations. However, I recommend saving it night time wear. Also, it should be sprayed on body hot spots to get maximum projection. Lastly, it should be used in moderation and reapplied only when needed.
Final Verdict
In general, this American company has made a fragrance that delivers as a seductive cologne. I recommend that any man should have a bottle on standby.