In 1941, Coach was founded by Miles Cahn and his wife Lillian. They started off making leather handbags and base baseball gloves. They are credited with developing a method to make the leather softer and more flexible.
Consequently, their company grew rapidly. Today, they specialize in luxury items and fragrances. in 2017, they launched a fragrance called Coach Cologne.
I have written a summarized Coach Cologne review that will inform you more about this awesome product.
Specifications
This fragrance features actor James Franco as the face of the cologne. His unique coolness is a perfect match for this unique product. The perfume is the collaborated effort of perfumers Anne Flipo and Bruno Jovanovic.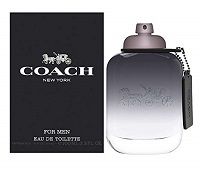 It features a standard cardboard box that has a leathery appearance and texture. The bottle is gorgeous. It is the coach insignia on the front with a little leather tag near the top. This tag has the word coach engraved into it.
The bottle has a nice oval shape with slightly black tinted glass. This tint fades into a transparent glass at the bottom of the bottle. The atomizer looks nice and expels the perfect amount of cologne. Also, it has a special lock feature that I found to be quite unique.
Keep Reading: 5 Simple Tips On How To Choose The Perfect Cologne
Features
This masculine fragrance features:
A top note made up of Bergamot, Kumquat, and Green Nashi.
Next, the hear notes are Cardamom, Coriander, and Geranium.
Finally, it closes with a base note consisting of Suede, Vetiver Haiti LMR, and Ambergris
Pros
The fragrance has good longevity of about 5-8 hours. This makes it perfect for a night out with friends.
Next, the projection is moderate. This prevents it from getting overwhelming. Also, the product is safe for use by people with sensitive skin.
Cons
Some people are always out to make money even if it is at other people's expense. You need to be cautious when buying this product as some knockoffs are in the market.
However, you can easily defeat this demerit by purchasing from trusted retailers like Amazon.
So how does it smell?
This fragrance opens up with a bright citrusy opening that dries down to more earthy and wood scent. To me, it is kind of reminiscent of Gucci Guilty black.
The opening is fresh and inviting. Next, the heart is a more earthy scent. This provides a perfectly harmonious blend with the top notes. Finally, the base notes are made up of a mix of spicy and woody scent. This gives the fragrance a masculine and seductive finish.
Benefits
This is a casual scent that is fresh and inviting. Consequently, it is easy to wear. Also, I found that a lot of people liked the scent. I was always receiving compliments from both men and women.
In a way, the fragrance is kind of seductive as women find it irresistible finally, wearing such a scent will act as a confidence boost. The cologne will truly make you feel like a new man.
It is always a joy being the center of attraction. This makes you feel attractive and appreciated. Also, it is a good confidence booster that can greatly increase your productivity. This makes this fragrance great for an office setting.
Who Needs It Most?
This scent is perfect for casual use. It is very versatile and can easily fit into a variety of lifestyles and occasions.
I personally believe that any man should have such a fragrance.  The scent is good enough to wear to even wear to the office on a Friday.
Keep Reading: Here are some tips on how to apply cologne without spray
Summary of Amazon Customer Reviews
This product performs very well on Amazon with a rating of 4.5 stars. This means that most customers are very satisfied with it. For instance, one guy claims that he has been wearing the fragrance since it came out. He added by saying that he is happy with the results.
How to Use it properly?
This fragrance is awesome. It can be used on most occasions. However, I recommend saving it for fall. Moreover, you should not overdo it as a little goes a long way.
Final Verdict
This is the perfect casual cologne for any modern man. I would advise you to go get yourself a bottle on Amazon.