In 1906, Montblanc was founded by Alfred Nehemias and August Eberstein. Initially, Alfred and August had careers working as a banker and engineer. The two started by making and selling pens. This grew into other luxurious items.
Today, the German company offers a variety of luxurious items such as jewelry, watches, and fragrances. In 2011, they launched a fragrance called Legend. Below is a Montblanc Legend Cologne Review that I have done.
I have used my personal experience with the product to give you my view of it. Also, I have used online reviews to give a more in-depth understanding of the fragrance.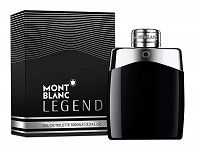 Specifications
The brain behind this fragrance is Olivier Pescheux. He is a popular perfumer and is responsible for many awesome scents like Azzaro'sJetLag. The packaging of this product is very masculine. The box is black with silver waves on the top. The wording is also written in silver.
The bottle is beautiful and is reminiscent of a gentle man's drinking flask. The neck and top are made from silverfish metal. The atomizer is good a releases a healthy mist of perfume when sprayed.
In general, the presentation is dark and mysterious. This is perfect for a masculine fragrance.
Features
Ingredients
Top Notes: Verbena, Bergamot, Lavender, and  Pineapple leaf
Heart Notes: Coumarin, Geranium, Apple, Rose, Oakmoss, and Pomarosa molecule
Base Notes: Sandalwood, Tonka, Evernyl
Pros
With this scent, you are assured to smell good all day. It has awesome longevity of 8-10 hours. This makes it perfect for office wear. The smell and projection are also nice. you are bound to get a lot of attention from the ladies.
Lastly, it is made from safe ingredients that are not harmful to the skin.
Cons
The fragrance is solid and I had a hard time finding anything negative to say about it.
However, you have to be careful when buying a bottle. Many websites sell a knock off version. These versions of the product can be dangerous.
Therefore, you should ensure you purchase it from trusted vendors like Amazon.
Keep Reading: How to Use Cologne Without Spray?
So how does it smell?
I personally love this fragrance for its simple yet unique scent. The top notes offer a subtle yet noticeable citrus smell. This scent only intensifies at the heart note when the floral and fruity notes appear.
Also, it provides the perfect transition from the citrusy top notes. The base note is the source of all the mystery and masculinity of the fragrance. It gives the whole fragrance a rich and sophisticated foundation.
Benefits
I have to say that I was happy with the number of compliments I received while wearing this fragrance. Even though I am a married man, it is still nice to receive a compliment from a beautiful lady.
In fact, one of my female workmates referred to it as an alluring and irresistible fragrance. The fragrance has a way of making you feel like the center of attention when you walk into a room. This is a wonderful feeling that will boost your confidence in new heights.
I personally felt better about myself after using this product. It made me feel more attractive and confident. This made me more productive at the office.
Moreover, outside the office, I was socializing more than I usually do. I have no doubt if you use this product you will be able to gain the same benefits and maybe even more.
Who Needs It Most?
This scent fits on many occasions. For instance, you could wear it to the office and still wear it when having drinks with workmates. It is the perfect scent for the modern man.
However, I feel that anyone can probably pull it off. It is easy to wear and has a touch of style and sophistication.
Summary of Amazon Customer Reviews
Personally, I would give this product 5 stars. However, it still performs well on Amazon with 4 stars. One user even says that it is the best fragrance he has ever bought as it fits his lifestyle perfectly.
How to Use it properly?
Like I said this spray is perfect for the hectic lifestyle of a modern man. It should be used in moderation targeting heat spots on the body. This will prevent it from becoming overwhelming while ensuring it carries you through most of your day. Also, I advise saving it for summer and fall.
Final Verdict
This is an awesome product from an awesome company. any modern man should have it in their collection.