Before reading the black orchid cologne review, let me briefly know the basics of it. Tom Ford is an American film director and fashion designer born in 1961. He made a name for himself working for Gucci from 1994- 2004. During this time Gucci saw a 90% increase in sales thanks to Tom Ford. However, he left Gucci in 2004 due to a disagreement over artistic control. He then started his own label with Dominico De Sole as chairman. Today, the Tom Ford label is known all over the world. They make eyewear, clothes, accessories, and fragrances. In 2006, they launched Black orchid cologne.
Here is a review that I have written. I have gained the information in this review from my personal experience of the product and other customer reviews. I hope this gives you an in-depth view of the product.
Specifications
You can tell that you are dealing with something special by just looking at it. The scent was created by the renowned perfumer David Apel. He is behind some iconic scent like Bois Rouge by Tom Ford and Unforgivable by Sean John. Doug Lloyd is the brain behind the packaging. I have to say he did a good job.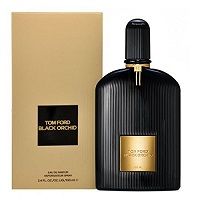 This unisex fragrance features a black burgundy bottle with a golden pluck. The top is also black with a golden ribbon. The top is easy to remove and is durable. The atomizer is awesome. It releases a healthy cloud of mist. In general, the product is relatable to both sexes. The bottle's shape is relatable to women. On the other hand, the black color is relatable to men.
Features
Fragrance notes
Top Notes: Jasmine, Gardenia, Mandarin Lemon, Blackcurrant, and Bergamot
Heart Notes: Lotus, Orchid, Spicy notes, and Fruity notes
Base Notes: Vanille, Vetiver, Sandalwood, Amber, Incense, Chocolate, and Patchouli
Pros
This product has a few good sides to it. First, it is versatile and easy to wear. This means you will find it useful on many occasions. Next, it is made with high-quality ingredients. This means it is safe for your clothes and skin.
Also, it has a moderate projection. This makes it good for office wear as it does not become overwhelming. Lastly, it has moderate longevity of 9-10 hours.
Cons
There is only one negative side of this product. Tom Ford has produced many flankers of this fragrance. Therefore, you have to be cautious when buying it online.
Keep Reading: Guide to Choose The Perfect Cologne
So how does it smell?
The first thing I noticed when I sprayed this fragrance is a mysterious and dark blend. The fragrance opens up with a citrusy floral scent thanks to its top notes. When these die down, a more floral and fruity scent takes over. This provides the perfect transition that makes the fragrance last longer.
Finally, the foundation of this fragrance is a woody and earthy scent. This provides the scent with its masculine attributes. On the other hand, the scent of Mexican chocolate gives it its alluring and mysterious attributes.
Benefits
This fragrance is marketed as a unisex scent. Therefore, you get the best of both worlds while using the scent. It is strong enough to get you noticed as a man. On the other hand, it is still subtle enough to be passed for a feminine scent.
Also, it smells good and makes you look and feel more attractive. This is an awesome feeling that can act as a confidence boost. Finally, the scent is alluring to both men and women. This turns it into the ultimate seductive tool.
This scent is perfect for couples. The unisex aspect means they can share the fragrance. This is not only cute but economical as well. For single people, it is the best tool to have in your seductive arsenal. The unisex aspect means that you will receive attention from both sides. This would instantly turn you into the center of attraction in a room.
Who Needs It Most?
This fragrance is very versatile in its use. You could wear it to the office and even to a night out with friends. However, I recommend it for mature men and women. The scent is a bit too mature for the youthful crowd.
Summary of Amazon Customer Reviews
Many people love this product and it has a 4.5 rating on Amazon. For instance, one man claimed that he was sure his wife has been using his and plans to buy her one bottle.
How to Use it properly?
This fragrance is easy to wear. Therefore, it will fit into the majority of occasions. However, I recommend using saving it for winter or as nighttime wear.
Final Verdict
This is really a special scent from Tom Ford. I personally recommend that you get it as soon as possible.