The house of Coty is a fragrance company that was founded in 1904 by perfumer Francois Coty. as a young man, Coty studied perfumery. He took lessons from a pharmacist who had some knowledge in the perfume industry. In 1989, the house of Coty launched Aspen cologne for men. Therefore, this very versatile cologne has been around for a long time.
I'm writing this review article from my personal experience of the product, customer reviews, and market analysis. I hope this gives you the information you need.
Specifications of Aspen By Coty
This fragrance comes in a standard cardboard box with a gold center and green accents. The simple green glass bottle reflects the classic sophistication that this fragrance represents. It has a golden top that is easy to remove but is durable enough to protect the sprayer.
Also, I personally believe that it has one of the best sprayers in the market. The sprayer is easy to use and expels a healthy cloud of cologne. In general, the quality of the cologne reflects the level of experience the house of Coty has in fragrance production.
Features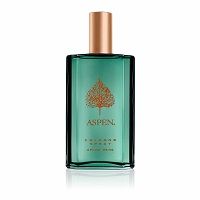 This classic cologne consists of:
It opens with a woodsy top note that consists of green and galbanum, enhanced by citrusy lemon and bergamot.
As these notes die down a floral and fruity heart note kicks in. This heart note consists of a cacophony of wildflowers, including, cyclamen, geranium coriander, lavender juniper and, jasmine while Orange blossom keeps things fresh and fruity.
Finally, the fragrance closes with a classic masculine foundation. The base notes consist of balsam fir, cedar, musk oak, moss, and amber.
Pros
As a man, I know the embarrassments that come with body odor. Body odor has a way of sneaking up on you at the most awkward times. This can be very stressful especially when you have to smell and look your best.
However, with this fragrance by your side, you can relax. It is versatile and long-lasting with the ability to last all day with just a single-use. As a result, you can face the day head-on with filled confidence.
Cons
This fragrance company has been around for a while. Also, they have produced more than 100 products. They are experienced and produce high-quality products. There are no negative sides to using this product.
Keep Reading: Ways to Use Cologne without Spraying
So how does it smell?
This scent is perfect for casual wear. When I sprayed it, the first thing I noted was the citrusy and earthy top note. This was strong but not overwhelming. After a while, elements of the heart note kicked in. This was more floral and fruity and provided a perfect transition.
The fragrance died off with the perfect woodsy base note. In general, this fragrance is masculine, long-lasting and strong.
Benefits
Sophisticated people are usually respected. Sophistication shows that you are refined and have made it in life. Consequently, everyone will always want to associate themselves with sophisticated people. This classic fragrance can help you seem more sophisticated and unique.  As a result, you will often find yourself the center of attraction.
It is not easy to gain someone's respect. You could know someone for many years and they still may not respect you. It is just how we are wired as human beings. However, if you use such a classic and sophisticated product it will be hard for someone not to give you some respect.
Who Needs It Most?
Business and job settings can be quite stressful. The world has become so competitive. Therefore, you will need anything that can give an edge over your competition. With this fragrance, people will find you more sophisticated. Consequently, you will easily impress your boss. Also, the fragrance is versatile enough for men who love the outdoors.
In summary, if you are in the business world or just a man who wants to look and feel more sophisticated then this is the cologne for you.
Summary of Amazon Customer Reviews
This product is rated highly on Amazon with 4.5 stars. This means, most customers have had a good experience using the fragrance. Do not take my word for it and look up the reviews.
For instance, one user claimed that Aspen is very fresh and clean smelling and lasts a decent amount of time on clothes. He also claimed that the scent is great and has an amazing value.
How to Use it properly?
This cologne is very versatile. I advise using it during summer to best experience the heart and base notes. It is advertised as cologne for men who love outdoors but I believe it can be used on almost all occasions.
Final Verdict
Looking at this product, it is easy to see why Coty has been in business for such a long tie. Aspen cologne is a really nice product at an amazing price.