The Spanish fragrance company Myrurgia has been in business since 1918. They are committed to creating affordable and innovative fragrances. In 2001, they produced an Aromatic Fougere fragrance called Yacht Man Blue Cologne.
The brain behind this iconic scent is the experienced perfumer Ramon Monegal. He is a fourth-generation perfumer from Barcelona and trained with Myrurgia to become an expert perfumer. I have done a quick review.
Specifications of Yacht Man Blue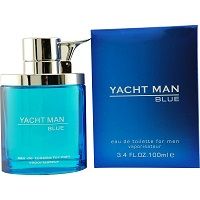 At first glance, the product may seem to have a simple design. However, with closer inspection, you can easily see its unique elements. The masculine and captivating fragrance comes in an ocean-inspired blue cardboard box.
The transparent glass bottle is simple and exposes beautiful blue colored cologne. The cologne's top is unique. It is attached to the bottle via a hinge and is easy to open. Finally, the atomizer is durable and expels a healthy cloud of cologne.
Keep Reading: Here You Will be Able to Know How to Use the Perfume correctly
Features
This fragrance consists of the following:
The initial tope note opens up with notes of lemon, bergamot, green apple, and melon.
Next, it opens up to a refreshingly floral heart note consisting of a floral blend of jasmine, carnation, freesia, and green.
Finally, this masculine fragrance closes with a woody base note that consists of almond, cedar, sandalwood, and leather
Pros
This affordable cologne is not only friendly to the wallet but is also friendly to one's health. Unlike, some other cheap cologne this one is not harsh to the skin.
It is carefully formulated with safe ingredients that do not irritate sensitive skin. Also, it has a good scent that will make you the envy of all your friends.
Cons
I personally believe that their no demerits of using this product. It is cheap and can easily turn you into a chick magnet.
So how does it smell?
It is easy to see that Myrurgia carefully-crafted this cologne. It has moderate longevity and sillage. The top notes are strong and fruity but do not get overwhelming. After a while, it transitions to a floral but masculine scent that lasts for a long time.
Finally, when the scent is dying out it tries to blend with your natural scent by providing a woody foundation. Generally, this is an awesome fragrance with a masculine and harmonious blend.
Benefits
This fragrance is versatile enough to be used on a variety of occasions. Also, it is strong enough to notice but the scent is not overwhelming. Consequently, you will feel and look more attractive. This will lead to a large confidence boost.
As I mentioned before, Myrurgia is a company that aims to deliver affordable products. Therefore, it is the cologne to get when you are on a tight budget.
Who Needs It Most?
This cologne is very versatile. It is never overwhelming and adaptable for many occasions. Therefore, you can wear it to the office, at the gym or even for an evening out with friends.
I personally think that any modern man should have such a versatile fragrance. With it, by your side, you can rest assured that you will always smell good whatever the occasion. This will transform you into a confident and attractive man that everyone would want to associate with.
Summary of Amazon Customer Reviews
Be the best way to know if a product is good is looking up reviews. This will give you an in-depth view of the product. This product has a rating of 4 stars on Amazon. This is a high rating and means people have enjoyed using it.
For example, a customer purchased the product for their grandson on his birthday and he loved it. She later found out that her grandson's dad borrows it for himself from time to time. Now, she has to buy another one during the holidays.
How to Use it properly?
This is a versatile and long-lasting fragrance. The refreshing top notes make it perfect for summer. On the other hand, the earthy heart notes are great for any other time of year. I advise using it in moderation as there is no need to overdo it.
Final Verdict
Myrurgia has made an awesome product that is affordable and versatile. Now any man on a tight budget can get to smell good.