In 1968, Calvin Klein and his childhood friend Barry Schwartz established Calvin Klein Inc. they made a name for themselves by presenting youthful clothing in the New York Fashion Week. 
Today, they are a luxurious American fashion house known all over the world. They mainly specialize in leather, ready-to-wear, perfumery, and jewelry.
In 2006, the Euphoria Cologne for men was launched with great promise. The following are a few summarized reviews of the product.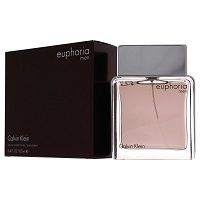 The iconic fragrance is the work of Carlos Benain, Jean-Marc Chaillan and Loc Dong. These three personalities are known to some of the best perfume experts in the industry credited with iconic scents. Some of the scents include Marc Jacobs by Marc Jacobs and the famous FUBU plush by FUBU.
The box is made out of brownish colored cardboard. The names of the company and product are printed in a youthful yet subtle style.
The bottle is made from clear glass with metal sides. This is an awesome design that is one of my favorites. Next, the cap is made of metal and clicks on and off with ease. Finally, the atomizer is nice and expels the perfect amount of cologne.
Keep Reading: Here Are 5 Tips, How to Choose the Perfect Cologne?
Fragrance Notes
Top Notes: Sudachi, Ginger, Pepper, and Rain accord
Heart Notes: Cedar leaf, Sage, and Black basil
Base Notes: Suede, Brazilian redwood, Amber, and Patchouli
So how does it smell?
It opens up with a rather spicy tone with woody and herbal undertones. However, the top notes are subtle and prevent the fragrance from becoming overwhelming.
Next, the heart notes bring out a more earthy and refreshing scent. This provides the perfect transition from the spicy top notes.
Finally, the fragrance closes with a woody and musky base note. This provides the whole fragrance with a mysterious, alluring, and masculine feel.
Calvin Kline is a big name in the fashion industry. Their products are placed on a whole new level and considered luxurious. People tend to respect people who use such items. They take one look at you and see a man who likes the better things in life.
The fragrance also makes you look more attractive. Consequently, you will often be showered with compliments. This provides for a great confidence boost.
In general, this scent can make you feel like a better version of yourself. It is a great feeling that you have to experience to know.
A first impression comes about when you meet someone for the first time. First impressions are easy to make and the senses play a vital role.
If you smell bad then someone might have the impression that you have bad hygiene. This fragrance is classified as a mysterious, alluring, and masculine scent.
Consequently, you can wear it to ensure you always make the best first impression.
The cologne is subtle in nature. This means it is easy to wear and can be used on a variety of occasions.
Also, this fragrance can make turn a person into the most mysterious and confident man in the room. This is an awesome feeling that I think every man should experience. I highly recommend that any man should have a bottle.
This is a casual fragrance that can be used in a variety of occasions. It has a harmonious blend that can take you from a busy day in the office straight into a drink with friends at the local dive bar.
The projection is moderate and provides a subtle scent that does not become overwhelming. The longevity of 6-7 hours is moderate enough to get you through a workday. it is made from safe ingredients that are not harmful to the skin. 
You have to be cautious when buying this product online. The company has produced many flankers of this product such as Euphoria intense. These are totally different products that you may not like. Just be careful and ensure the box only has the word Euphoria on it.
Not surprisingly, this awesome product is highly rated on Amazon with about 4.5 stars. This means that a larger majority of people have enjoyed using it. For instance, one wife claimed that she fell in love with her husband because of the smell. She added that still loves the smell after 3 years of marriage.
The sprayer on this fragrance dispenses a mist over a large distance. I would recommend spraying it far from your body to cover a larger area. It is a versatile scent that can be easily worn on many occasions. However, I would recommend saving it for summer or nightwear.
CK has really got it right with this scent. If you do not have it I would advise you to get a bottle as soon as possible.